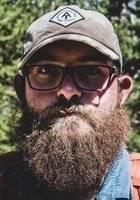 Noah
Certified Tutor
I am a recent graduate of The Ohio State University with a degree in philosophy. I look forward to tutoring as an opportunity to help students discover their strengths in subjects they find difficult or unnecessarily complicated. I believe that anyone can learn anything, as long as they are taught well. Given my background in philosophy, I am familiar with transforming the unbearably boring into the deeply fascinating. I hope to help students learn that such transformations are fully within their control.
Education & Certification
Undergraduate Degree: The Ohio State University - Bachelor in Arts, Philosophy
Test Scores
SAT Composite (1600 scale): 1400
Hobbies
I enjoy reading; my favorite genres are philosophy, fiction, science fiction, fantasy, and epic fantasy. I am an avid outdoorsman. I climb, do whitewater sports, backpack, and hike. I enjoy videogames like League of Legends, Borderlands, and Halo. I like to write fiction and fantasy in my spare time, and really get a kick out of learning how to play with words and language.