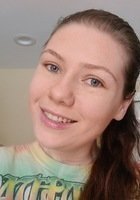 Ashley
Certified Tutor
Hello, My name is Ashley and I love learning. Education is the most important aspect of a successful future. I wish to share my love of learning with others. I have degrees in both Business and Culinary Arts. Math is my favorite subject and always has been. I hope to help others get excited about Math too.
Education & Certification
Undergraduate Degree: Johnson Wales University-Providence - Bachelor of Science, Entrepreneurial Studies
Hobbies
Volunteering, Cooking, Crafting, Nature, Hiking, and anything exciting and outdoors!