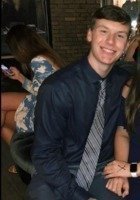 Brad
Certified Tutor
I am a motivated student at the University of Minnesota who has a passion for Math and Science. I've found that I feel best about my understanding of a subject when I'm confidently able to help someone else with it. This approach to my studies has let me assist many other students along the way, giving me experience with a wide variety of students. I'm eager and dedicated to help you or your student meet their goals.
Test Scores
ACT Composite: 31
ACT Math: 35
ACT Science: 31
SAT Composite (1600 scale): 1490
SAT Math: 800
Hobbies
I am an active person who loves to workout, while still a nerd at heart. I enjoy spending time with close friends and playing video games with my brother.
Tutoring Subjects
Discrete Math
Other
Study Skills
Study Skills and Organization