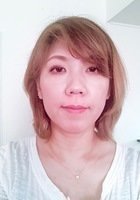 Yasuko
Certified Tutor
I've lived in the USA for 11 years. I'm from Tokyo, JAPAN. I've worked as a Graphic Designer. I've been in the art field for a long time. I can teach Japanese language/Photoshop/Illustrator/Drawing. I would like to help as much as possible. We will enjoy our class!
Education & Certification
Undergraduate Degree: Tokyo Tama Art University Japan - Bachelor in Arts, Arts, General
Hobbies
Photography, Music, Movie,Drawing etc.