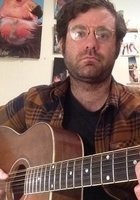 Eric Van
Certified Tutor
I have been teaching guitar for 5 years, playing for 24. I've played bass for about 20. My students have primarily been aged 7-13, either beginners or fairly early in their guitar education, but I would be quite comfortable teaching people of any age and experience. I have only taught guitar and have not had a bass student before, so I think I would be best suited for teaching beginners only for bass.
I can read music, but I do not very often, so if the student wants to learn reading formal music, I would be best suited for beginners. I primarily work via tablature, chord charts, or the folk method--by example.
Personally, I enjoy rock music, folk, country, and blues. I really like finger style and am proficient if the student has interest in that, but I can also teach flat picking.
As for English and Writing tutoring, I have a B.A. in English from the College of William and Mary. I have two years' experience teaching Reading and Writing for the ACT and three years' experience teaching creative writing after school. I am currently taking graduate courses in Literature and will apply for Masters' programs in the winter.
Thanks!
Hobbies
music, painting, reading