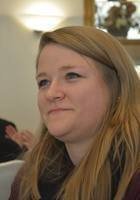 Maren
Certified Tutor
My experiences as a Teacher and Teacher leader have built my ability to be reflective on my practice and adapt everything I do to data driven and research based methods. These methods create a more student-centered environment.

My current position is a teaching American History and AP United States history at a high school in the Columbus area. I previously was a Instructional Coach and head of a Social Studies department in Chicago.

My work in underserved communities has been an important part of my growth as a teacher leader. I want to tutor and continue my work and impact learning outside of schools focusing on students and growth.
As a Social Studies teacher I have adapted my practice to balance history content and reading skills based on the needs of my students. Using Common Core standards, the new SAT standards, and now Ohio History standards I have aligned my curriculum to help all students grow their textual analysis to foster their development as critical thinkers. I emphasize content skills like sourcing, corroboration, and contextualization support student's textual analysis. Alignment with assessments can come from this skills based teaching. I use data collection to target high leverage interventions and promote student reading growth.

I strive to build my classroom on high expectations and high support. My tutoring is no different. I operate with the belief that all students can learn. Genuine differentiation starts with strong relationships, student centered instruction, and standards aligned curriculum. Using engagement strategies and varying instruction are key ways I differentiate for my students.
I have collaborated with members of our student support team to enrich student's individualized educations. All individual students with varying abilities, backgrounds, and motivations benefit when the rigor level of assignments and assessments is appropriate for them.
Hobbies
I enjoy cooking, hiking, and knitting!
Tutoring Subjects
CLEP Prep
CLEP History of the United States II: 1865 to the Present
CLEP Social Sciences and History
GED Social Studies
Other
Study Skills
Study Skills and Organization