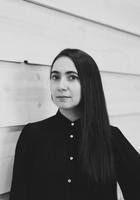 Kyle
Certified Tutor
I'm a graduate of Williams College where I received my Bachelor's degree in Art History, and of the University of Southern California where I received my Master's of Fine Arts in Film and Television Production. In the past several years I've worked in various roles at film production companies, primarily as one who reads and writes reviews of scripts and books. I acted as a writing coach to other interns, and office assistants, helping them to revise written critiques of scripts and books for official review. I truly love helping others to improve their critical reading and writing abilities, as it's a skill that's crucial to success not only in academia, but also in the professional world, regardless of one's career path.

In addition to helping others improve their writing skills over the past several years, I also tutored adults in conversational English while studying abroad in Spain, and assisted my own younger sister in revising her college application essays and throughout the whole of her college application process.

I am an avid reader with a passion for 20th century American and English literature, and am looking forward to digging into texts with students who are tackling great books in their classes.

Aside from tutoring, I love hiking, going to art museums, and of course keeping up to date with all the great movies and TV shows that are in theaters and on HBO, etc.
Hobbies
Art Museums, Film, Writing, Literature, Poetry
Tutoring Subjects
Adult Literacy
American Literature
College Application Essays
College English
College Level American Literature
Conversational Spanish
Digital Media
Elementary School Reading
Elementary School Writing
High School English
High School Level American Literature
High School Writing
Mac Basic Computer Skills
Microsoft Office
Middle School Reading
Middle School Reading Comprehension
Middle School Writing
Other
Social Networking
Technology and Coding