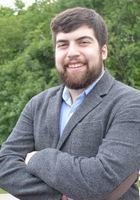 Gerard
Certified Tutor
Throughout my academic career, I have consistently made time to help those that struggle with the subjects that I have established a firm grasp on. In my opinion, the absolute best way to learn a difficult to conquer subject is to discuss and talk through it with another student. Especially on a high school level, students tend to drastically overthink assignments or give up entirely based on the seeming overwhelming force of the pressure placed upon them between standardized testing, college applications, and more responsibility than they have had in their lives thus far. This mindset can be absolutely be a detriment to academic performance, and I see it as my job, as a person who has gotten through the exact same process, to assist those that are having a tough time. As a tutor, my personal mission is the easing of stress to ensure the optimal performance of my clients through the strategies and skills I have obtained through my long career as a student.

I graduated with a degree in English with a minor in Political Science from the University at Buffalo with Honors distinctions. During my tenure as a student of the University, I was a member of the English Honor Society and tutored other students in developing their writing skills and helping them get through substantial assignments such as essays or long research papers. By focusing on organization, grammar, syntax, voice, and general flow, the peers I would work with would observe noted improvement within the work they produced, measured by their improved grades.

I have tutored students in High School Chemistry, American and World History, and all levels of English. I am also well versed in test prep, including the SATs and ACTs, as evidenced by my scores.

I hope to work with you soon!
Tutoring Subjects
American Literature
College Application Essays
College English
College Level American Literature
High School English
High School Level American Literature
High School Writing
Middle School Reading
Middle School Reading Comprehension
Middle School Writing
Other