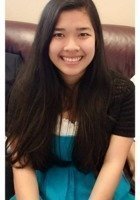 Thanh
Certified Tutor
I am a 24yo academic with a B.S. in Physics and Mathematics. I have completed 2 years of graduate studies in Bioinformatics and Computational Biology. I am an enthusiastic and patient person, and have experience tutoring many different math subjects for a wide variety of students. My specialty is finding a method that best suits the student rather than trying to grind the same information repetitively.
Education & Certification
Undergraduate Degree: University of Arkansas - Bachelor of Science, Applied Mathematics
Test Scores
ACT Composite: 31
ACT English: 33
ACT Math: 34
ACT Reading: 33
SAT Composite (1600 scale): 1400
SAT Math: 730
GRE: 324
GRE Quantitative: 167
SAT Mathematics Level 2: 720
SAT Subject Test in U.S. History: 730
Hobbies
I like to read and write. My true loves are history and art. I am a fan of Firefly, Doctor Who, and Harry Potter. I enjoy games, video and tabletop.
Tutoring Subjects
MATLAB
Technology and Coding