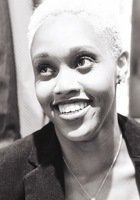 Renee
Certified Tutor
I was born and raised in Trinidad, one half of the country of Trinidad and Tobago. There I fell in love with Mathematics, studying varying aspects of it, from Pre-Algebra to Applied Mathematics.

I furthered my interest to tutor in college at Howard University, where I gained experience tutoring university student athletes. This occurred for three years while I reviewed statistics for the university's admission office.

Fast forward to 2013, when I started my matriculation to gain my Masters of Finance at University of Rochester, I tutored my fellow classmates and other students at the university that needed help with differential equations and calculus based questions.

I have experience working with Mathematics for years, and Finance (I have six years career experience) and am excited to tutor you the students!
Test Scores
SAT Composite (1600 scale): 1380
SAT Writing: 700
SAT Mathematics Level 2: 700
Hobbies
Reading, cooking, fitness, hanging out with friends and family, exploring new restaurants, traveling