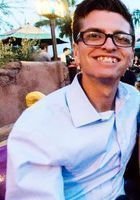 Mark
Certified Tutor
I am currently an undergrad student at Valencia College in Orlando, Florida. I will be receiving a generalized Associate degree and hope to pursue astronomy or astrophysics in the near future. My strength lies in math, and I look forward to helping those who seek guidance in math. I also enjoy many different types of sciences. I have lots of training experience working for Walt Disney World. Although the training was not academic in nature, I taught a wide variety of people of all ages and learned how to target different learning styles. I believe in order to be an effective teacher, one has to tailor to different learning styles and learn just as much from the student. Outside of tutoring, I love anything to do with space. I enjoy movies and television, some of my favorite franchise being Star Wars and Game of Thrones.
Education & Certification
Undergraduate Degree: Valencia College - Associate in Arts, Physics
Hobbies
I love anything to do with space and hope to one day study Astronomy. I have a cool pair of binoculars and watch many constellations. I like to play some guitar and piano and I love video games.
Tutoring Subjects
Basic Computer Literacy
CSS
HTML
Microsoft Excel
Microsoft Office
Technology and Coding