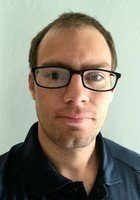 Zachary
Certified Tutor
My motivation:
I love the feeling of when "something clicks", and I want to help other people achieve that feeling. To me, tutoring is fun and rewarding.

Why I think I'm a great tutor:
I'm not one of those geniuses you had in class that gets everything instantly. I've been in the place of a normal student. I know that creative perspective and hard work are key for understanding math. To get to the graduate level in math I was forced to look at basic topics from different perspectives. This gives me incite into the difficulty students sometime have picking up concepts. I've been there. So, I aim create interest in the subject and provide different ways to look at the subject matter.

My personality:
I'm really easy going and try to find the humor in everything. I played sports (football and baseball) all throughout my childhood, and spent a few years in the Navy (honorably discharged). I love reading sci-fi, I love the outdoors, and I love anything positive really.

Hobbies
Sports, sci-fi books, computer programming.