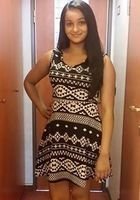 Heemali
Certified Tutor
i graduated with a B.S in biology and am currently furthering my education in radiation therapy. I have tutored kids since my undergraduate experience helping students in my class. I am very good at tutoring science since it was my major and am furthering my expertise in it. I love to teach students math as well. I love to help kids learn from the basic and
work their way up. When kids tend to be confused, they don't follow the teacher through further studies; they get stuck. this is where I fit in and help kids solve their confusions and make sure they understand the foundations of each subject and work their way up. i plan to help kids amd ask them to explain to me what they learned after teaching them to make sure each kid understand and gets rid of their confusions; thus leaving them feeling better about the subject.

Hobbies
Looking forward to going to rotatiosn. Like to play tennis and basketball as well as enjoy a relaxing day with family.
Tutoring Subjects
ACCUPLACER ESL - Listening
Adult ESL/ELL
CLEP Prep
CLEP Biology
CLEP Natural Sciences
College Biology
COMPASS Mathematics
Elementary School Math
Elementary School Reading
Elementary School Science
Elementary School Writing
GED Math
GED Science
Graduate Level Biology
High School Biology
High School English
High School Writing
Hindi
ISEE-Middle Level Mathematics Achievement
Life Sciences
Medical Ethics
Medical Terminology
Medicine
Middle School Reading
Middle School Science
Other
Spelling Bee
What is your teaching philosophy?
I would make sure they know the matter well.