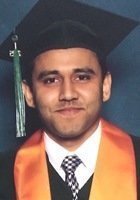 Faseeh
Certified Tutor
I have experience tutoring for over 8 years now. I started in high school tutoring my peers in science and mathematics. I continued tutoring in college through the Educational Opportunity Program. This allowed me to focus tutoring students with high needs. I shifted gears near the end of my college career and began tutoring kids in early education. I became a mentor for a middle school student and became his academic aid. I am currently tutoring high needs students from 2nd grade to 4th grade at a Charter School in Boston.
Through my experience tutoring at various grade levels, I have learned how to cater tutorials to the needs of each individual student. My priority is to find the root cause why a student is struggling and attack that approach. I work with my students to help them learn to teach themselves. Their goal is to be high-achieving independent learners and I will try my best to help them along that journey.

Test Scores
Chemical and Physical Foundations of Biological Systems: 129
Hobbies
I love watching football and playing basketball. I am a big fan of alternative rock music and enjoy watching documentaries on Netflix.
What is your teaching philosophy?
I believe each student is different. That means teaching each student requires a unique approach. I first try to figure out what type of learning best suits a student and move on from there.
What might you do in a typical first session with a student?
Ask them their academic history. See if there is a root cause for their struggle. I would want to figure out how to help my students help themselves.
How can you help a student become an independent learner?
By assessing their strengths and areas of improvement. I don't focus on how to teach students but rather on how to teach a student to learn themselves.
How would you help a student stay motivated?
I would incorporate progress reports to keep track of how we are improving in areas of high needs.
If a student has difficulty learning a skill or concept, what would you do?
I would refer them to additional resources they can use for self-help. Books, online tutorials or even other people who may help explain it better.
How do you help students who are struggling with reading comprehension?
I have a few tips and tricks that help me with reading comprehension and speed. To go a step further, I can discuss their situation with my colleagues who can provide professional guidance on how to improve reading comprehension.
How would you help a student get excited/engaged with a subject that they are struggling in?
I would make the concepts tuned to visual learning. Relating difficult or abstract concepts to real-life situations serves as a great learning tool.
What techniques would you use to be sure that a student understands the material?
Allow the student to answer questions about the topic in free response. It allows the student to showcase their knowledge without the pressure of a right or wrong answer.
How do you build a student's confidence in a subject?
I will always lower the bar for entry. Take smaller steps in understanding big picture concepts to work our way to more challenging and independent work.
How do you evaluate a student's needs?
I'd simply ask the student. If the student does not feel confident about where they need help, a diagnostic test can reveal a lot.