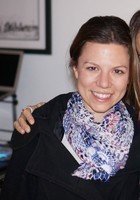 Stefanie
Certified Tutor
I have been in the field of education for over 10 years and believe in constantly refining and developing my practice. I have taught grades K, 2, 4, 5, and 6 and have tutored in almost every grade level between PreK-College. I graduated from Rutgers University Summa Cum Laude with a B.A. in History. I also received my Ed. M. from Rutgers University and am certified to teach elementary school and Social Studies in K-12. In addition, I'm currently working towards my Reading Specialization Certificate and a Masters in Reading. I believe that in order for student to reach their highest potential, they need to make connections with the content and material. This requires teachers and tutors to modify lessons to the needs of their individual students based on their skills, experiences, and interests.
Hobbies
Reading, exercising, running, playing piano, yoga, travel
Tutoring Subjects
College Application Essays
Elementary School
Elementary School Math
Elementary School Reading
Elementary School Writing
High School Political Science
Other
Political Science
PRAXIS
Social Sciences
Spelling Bee
Study Skills
Study Skills and Organization
What techniques would you use to be sure that a student understands the material?
In order to be sure that a student understands material, I would compare data from a pre-test and post-test. I would also judge the student's understanding based on their verbal explanations of their answers. Additionally, I would monitor a student's understanding through questions that check for understanding.
What types of materials do you typically use during a tutoring session?
During a tutoring session, I typically use visuals or concrete materials to aid in a student's learning. In addition to paper/pencil, I believe that providing visuals and manipulatives allows students to make connections and construct new knowledge based on hands-on experience.
What might you do in a typical first session with a student?
In a first session with a student, I would typically utilize a pre-test and/or survey to gauge their knowledge in the subject area and to learn about the student's interests. I would also tell the student a bit about myself to establish a relationship and begin to get to know the student on a personal level. By getting to know my students, I am able to find out what motivates them to help them persevere through difficult material.
How can you help a student become an independent learner?
I believe that you can help a student become an independent learner by teaching them strategies to inquire and finding answers to their questions. I believe by modeling independent learning behavior and gradually releasing responsibility to the student, they will eventually be able to perform such skills independently.
How would you help a student stay motivated?
I believe that you can help a student stay motivated by tapping into their interests and personal motivators. Depending on the grade level, you can also provide students with incentives and rewards for staying on task/completing tasks.
If a student has difficulty learning a skill or concept, what would you do?
If a student has difficulty learning a skill or concept, I would work backwards to find which component of the skill they were struggling with. For example, if a student is struggling with 2 step equations, I may provide them with a 1 step equation to ensure that they are able to identify appropriate mathematical operations.
How would you help a student get excited/engaged with a subject that they are struggling in?
I believe that you can get a student excited/engaged in a subject they are struggling with by providing opportunities for success. I believe by providing students with a visual tracker of their progress, they become excited and motivated to continue their learning.