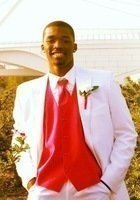 Najeal
Certified Tutor
I enjoy helping kids learn and grow as better people.
Hobbies
Music, basketball
What is your teaching philosophy?
In order to improve at something, you have to attack it head on.
What might you do in a typical first session with a student?
Introduce myself, give a background check, and try to build rapport with the student and parents.
How can you help a student become an independent learner?
Give them techniques that they can use when it comes to figuring out different problems.
How would you help a student stay motivated?
Get them to understand that it's ok to mess up, and that's how you learn from your mistakes. Don't be afraid to mess up or get it wrong.
How do you help students who are struggling with reading comprehension?
Give the reading meaning. Make the reading relative to the student's learning habits. Get the student to see why they need it.
What strategies have you found to be most successful when you start to work with a student?
Giving the student confidence. Boosting the ego of the student.
How would you help a student get excited/engaged with a subject that they are struggling in?
Make the subject relevant to them. Use real-world, day to day examples for the student.
What techniques would you use to be sure that a student understands the material?
Re-test the student with multiple examples.
How do you build a student's confidence in a subject?
Praise them when they get it right. Tell a student to trust their instincts in a subject.