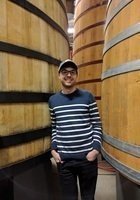 Sidney
Certified Tutor
I am a recent graduate of the University of Colorado at Boulder. I am a Colorado native who enjoys rock climbing and nature. I work currently for a large international engineering consulting company and specialize in water engineering.

I am a strong believer than learning occurs in a much different way than the traditional lecture method given in schools. Schools are teaching hard facts and not showing students how subjects can be applied to real life. Students miss out on many wonderful realizations in their daily lives because they don't understand how chemistry helped create computers, or the historical context that has created the current political climate.

Tutoring sessions with me are structured much differently than a traditional class. I don't lecture; Learning with me is a conversation in which we will talk through a concept together, and then the student proves their understanding by teaching it back. I try to break sessions up with timed quizzes, real world applications, and scenario problems whenever possible to keep the student engaged and energized.

I understand most student's goals are to perform better in the classroom, and that is what we will work towards, but i also intend for my students to leave each session with the ability to understand a little bit more of the world around them.
Test Scores
ACT Composite: 32
ACT Reading: 36
ACT Science: 34
Hobbies
Rock Climbing, Reading, Cooking
Tutoring Subjects
Chemical and Biomolecular Engineering
College Biology
College Chemistry
High School Biology
High School Chemistry
Other
Summer
What is your teaching philosophy?
My teaching philosophy is that learning occurs when a student enters into a conversation with the teacher. When a student is just talked to, it is easy to tune out and to miss important nuances of the content. When learning is a conversation and the student is actively engaged in their learning, information is retained much better.
What might you do in a typical first session with a student?
A typical first session will always be the time I try to get to know the student. It is important to understand the student's learning style and struggles in order to lay the groundwork for successful future sessions. I will spend time setting up a few goals for us to achieve together and lay out a plan we will take to get there. We will look at important dates for the student and milestones to hit by those dates.
How can you help a student become an independent learner?
I believe a lot of students don't know how to learn. Learning beyond instinctive simple skills isn't a natural ability. Everybody has different styles, and being a lifelong learner is dependent of each person getting in touch with their own style of learning. It is always my goal to help a student identify how it is they learn best so they can utilize that ability to learn beyond the sessions.
How would you help a student stay motivated?
Goals are key. Improvement isn't an instantaneous thing. Instead, it happens gradually and having goals helps students see their growth and stay motivated to learn further.
If a student has difficulty learning a skill or concept, what would you do?
Everybody hits snags in their learning. Some topics are more difficult for somebody than others. If a student is having problems learning a concept, the best thing to do is to be persistent with practice and guidance. I would slow down the pace of teaching and I would spend as much time as needed to walk through many different practice problems until the student hits that "aha!" moment.
How do you help students who are struggling with reading comprehension?
Reading comprehension is about practice and discussion. Walk through a reading paragraph by paragraph and discuss the significance of each to build an understanding of the passage as a whole.
What strategies have you found to be most successful when you start to work with a student?
I don't think students set goals for themselves and so they aren't sure if they are making any progress. When I start, we sit down and talk about benchmarks we want to hit so we know whether or not each session is successful. Each success helps build confidence.
How would you help a student get excited/engaged with a subject that they are struggling in?
Real world examples do wonders.
What techniques would you use to be sure that a student understands the material?
It's all about discussion. I don't just teach; I sit and ask the student questions. By having to explain their reasoning, a student really has to think about every part instead of just passively deciding they understand.