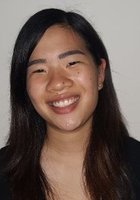 Kerry
Certified Tutor
I am currently a student at the University of Michigan Ross School of Business. I am working on my third year in the Bachelors of Business Administration program. Throughout my time in both college and high school I have experienced the frustration and pains of students, whether it be myself or my friends. I have always helped my friends with the subjects they struggled with (Calculus, ACT science, Economics, etc.) because I want to see them succeed. I decided to become a tutor to help others succeed as well. I teach ACT, SAT, Statistics, Economics, Business, Math, English, Environment Science, Reading, Writing, and Essay Editing. I especially enjoy teaching Essay Editing, Reading, and Writing because there is more flexibility and opportunity to add your own style into these subjects. Outside of school I enjoy playing tennis, working out, DJing and cooking.
Education & Certification
Undergraduate Degree: University of Michigan - Bachelors, Business
Test Scores
ACT Composite: 33
ACT English: 31
ACT Math: 33
ACT Reading: 35
ACT Science: 31
SAT Math: 800
SAT Verbal: 740
Hobbies
Playing tennis, DJing, playing the guitar, and working out.
Tutoring Subjects
Business
College Economics
College English
Conversational Mandarin
High School Business
High School Economics
High School English
Mandarin Chinese 1
Mandarin Chinese 3
SAT Verbal
Social Sciences