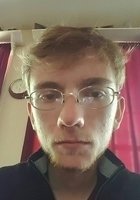 Jared
Certified Tutor
I am a math major currently looking towards studying in grad school in a few years, in mathematics of course. I am originally from Atlanta, GA but have moved a tad north up to New York to see what here can offer me. That's my gist.

Now to what I like, or more notable, what I do in my free time. I am an avid reader, avid Netflixer, and an avid pursuer of physics articles. These things occupy a good half of my day. But I am a hiker, a Boy Scout forever, and a amateur looker at of art, but usually that evolves into me just saying wow that's pretty.

Lastly, how I teach. My teaching philosophy falls under one old quote that I like to use in both my personal life and when I teach. "You have only mastered a subject when you are able to teach it." Now that's not the exact quote, but the idea still follows. I believe that someone doesn't truly know what they are doing until they are able to teach it to someone else, and that goes with how I like to teach in so much that a lot of how I teach is for the student to be able to say what they are doing, being able to teach it back to me instead of just being able to parrot what I just wrote the day before, because in the end, parroting the information means they will forget it in a few months, and that defeats almost the entire purpose of learning it in the first place.
Education & Certification
Undergraduate Degree: Berry College - Current Undergrad, Mathematics and Physics
Hobbies
Reading, video games, hiking, exploring
Tutoring Subjects
10th Grade Math
11th Grade Math
12th Grade Math
7th Grade Math
8th Grade Math
9th Grade Math
Applied Mathematics
What is your teaching philosophy?
I believe that students, no matter their age or ability level, have the ability in to do what is needed of them and to excel beyond that point. That may be personal goals or goals set by someone else. Each individual is capable of anything.
What might you do in a typical first session with a student?
I like to do assessment testing and getting to know them usually. Learn where they are at, what they need most, and hone in and focus on that more than anything.
How can you help a student become an independent learner?
By giving the student the means to push forward on his own and giving them the confidence to know that they are able to do what they must, then they will soon on their own, be able to learn independently.
How would you help a student stay motivated?
A lot of times when a student finally gets something that they have been struggling with for a long time, they feel successful and will want to keep going on their own. And if not, just constantly show them and tell them how well they are actually doing and help them learn that they can do this. This will help them want to finish what they have started.
If a student has difficulty learning a skill or concept, what would you do?
Repetition and new approaches. Keep doing the same task, but from different angles this time. Find the method that work for them to find what then they can do to succeed.
How do you help students who are struggling with reading comprehension?
A good thing that I would do is find something first that they like to read. Like if they like fantasy, find books about fantasy on their level and so that when they want more, you can slowly give them harder books. They will be reading what they want to read, which will help make them read more and eventually read better.
What strategies have you found to be most successful when you start to work with a student?
One thing that I find works well is to learn what the student can do first before finding out what they cannot. Find their strengths and work with those to find a way that can work for them to succeed.
How would you help a student get excited/engaged with a subject that they are struggling in?
Find a way that you can make the subject applicable to them.
What techniques would you use to be sure that a student understands the material?
A lot of times its good to see if a student understands the material by just watching them do it. See if when they have to do it on their own, they can still do it. Also, revisiting the topic after it is covered, just to make sure that there still is retention there.
How do you build a student's confidence in a subject?
By showing them that what they are struggling in is not a fault of theirs, but just a consequence of how we have to teach large amounts of people. Not everyone can learn at the same pace or same way, so showing someone that they are doing bad is not their fault helps to show them that they can do what they are set out to.
How do you evaluate a student's needs?
Typically I like to see past tests, papers, any material that they have of theirs to show me how they work and how they think. If none of that is there, I will look at the curriculum and then just ask questions based on what they should know.
How do you adapt your tutoring to the student's needs?
I take every student on a case-by-case basis. Seeing what each student needs to succeed, not what every student did to succeed.
What types of materials do you typically use during a tutoring session?
I am very fond of just pen, paper, and maybe some materials that I have prepared beforehand. If I need a book or something of that manner I will get it and have it ready, or if I need anything else I will have it and bring it.