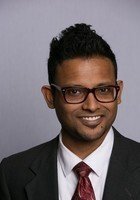 Mithila
Certified Tutor
I have a Master's Degree in Physics and a Bachelor's Degree in Chemistry from two top Universities in Minnesota. I have 5+ years of experience in teaching both Physics and Chemistry at the collegiate level. My philosophy about teaching Physics, Chemistry, and Mathematics is that helping students develop insight, deep intuition, and a profound level of intimacy with concepts leads to a greater appreciation of the topic, an innate desire to learn it, and unavoidably, HIGHER TEST SCORES. I connect concepts with real world examples and bridge topics with multidisciplinary applications, helping students see the connectedness of the physical sciences and mathematics. With such a deep understanding and appreciation, students build a knack for QUICK AND CLEVER SOLUTIONS that prove to be extremely EFFICIENT IN EXAMS AND COMPETITIVE ACADEMICS.

I am highly DIVERSITY-COMPETENT, both in the sociological sense and the academic sense. There is a diverse spread of students' backgrounds and needs that require thought and preparation on the teacher's part that come before the teaching. For example, I maintain caution when deciding to share or not share mathematical subtleties, computational details, and connections to higher-level topics, depending on the students' mathematical background, whether they are in a field that will later utilize some of those subtleties and details, or if they are in a non-physical science field trying to supplement their main educational goals with some additional coursework. As seen by some of my accolades such as "BEST GRADUATE TEACHING ASSISTANT of the year 2015 at University of Minnesota - Duluth", and consistently high reviews from students, I aim and succeed in providing thoughtful, high-quality, and tailored assistance with sustainable results for each of my students.
Hobbies
Playing and listening to music. Reading.
What is your teaching philosophy?
I believe that teaching geared towards developing a strong intuition, a far-reaching insight, and a close intimacy for the concepts at hand and the applications in the real world, leads to an enjoyable learning experience; develops learning habits that are sustainable; successfully handle and thrive in future, more advanced topics.
What might you do in a typical first session with a student?
Invest in a healthy relationship by introducing myself and getting to know them. The experience needs to be sustainable and positive first impressions make that more likely. I would also attempt to gauge exactly what the student's needs are. For instance, are they an already excelling student looking to develop a stronger feel for a topic by exploring all the mathematical subtleties and technical nooks and crannies, or are they looking to quickly nail down the concepts and start test-prep soon because they have a quiz coming up next week? During the remainder of the lesson, I will make a conscious attempt to make note of their strengths, weaknesses, what I need to spend more time on in the future, what I need not spend time on in the future etc. Finally, I will point out to additional resources available, set up a schedule for the next meeting, and ask them what they would like to cover next time so I can suggest some measures to better prepare themselves and I can better prepare myself.
How can you help a student become an independent learner?
I will ask them questions along the way. As I learn more about their abilities, I will get a better and improving idea about how to probe them. Helping them develop a good intuition and building their appreciation enable them to become independent learners as well. If I can spark enough of an interest of a topic, they will attempt to learn it better.
How would you help a student stay motivated?
Most often in physics and applied mathematics, it helps to draw to analogies and applications from the real world. I will constantly make an effort to pick such examples. I will utilize the drawing board to draw diagrams to elaborate on ideas. On my own time, I will do research on how to better teach specific topics that I find a student is struggling with.
How do you help students who are struggling with reading comprehension?
Drawing diagrams are often useful in fully understanding a problem statement. In fact, simple problems are often on purpose stated in convoluted language to make the problem difficult. Diagrams can usually unveil the simplicity of easy problems shrouded in complicated language.
What strategies have you found to be most successful when you start to work with a student?
Attempting to make a personal connection has proven time and time again as a successful strategy. This helps develop a good connection with the student and establishes a certain comfort zone with them. It is also productive to establish clearly the expectations of both parties. What do I expect of them as far as the progress I would like to see in them? As for them, are they really excited about physics and want to explore all nooks and crannies, or are they really just trying to get through the last few quizzes so they can move on to the next class in their curriculum?
How would you help a student get excited/engaged with a subject that they are struggling in?
With the recent boom of science and mathematics being used as exciting topics in popular culture and vivid animations seen in pop science shows, it is easy to suggest things they can watch and read on their downtime to get them excited about science. There are cool and fun experiments and games easily available on YouTube that I can suggest. During a tutoring session, I can mention or explain unorthodox and unexpected applications of certain topics.
What techniques would you use to be sure that a student understands the material?
Diagrams are incredibly useful in elaborating on concepts. Depending on the student's approach to understanding concepts, I will choose either a more application-driven style of delivery or a more abstract concept-driven style of delivery. I will also go over many practice problems and encourage them to do the same on their own time.
How do you build a student's confidence in a subject?
I will remind them of their progress every class. I will do so by recalling the things they found difficult earlier on during the tutoring sessions but now accomplish with ease. I will also ask them many little questions along the way of explaining a topic or going over a problem. This enables them to self-assure that they're capable of answering questions. I will also compliment them when they get the answers right.
How do you evaluate a student's needs?
Clear communication is the first step. I will try to get as much of an understanding of what their needs are by asking them and consciously making an effort to accommodate them. I will take notes on what they claim to need help with. I will try to organize the lessons and the delivery to specifically cater to those needs (i.e. if they claim to work on their problem-solving speed, I will focus more on problem solving, suggest short cuts and unorthodox solutions that build speed). If they want to understand the concepts in a concrete manner, I will focus more on elaborating on the concepts with examples and applications. Secondly, I will allow my understanding of their needs to evolve dynamically as I get to know the students, their strengths, and what they have difficulty with.
How do you adapt your tutoring to the student's needs?
I right away ask them what they are looking for. For example, sometimes students are really looking to deeply understand the concepts of some topic, really develop an intuition for the subject. Sometimes they're a little short on time and need to do some problems and get the main idea so they can perform better on a quiz or exam that is coming up. Communication that is clear and prompt helps me understand what they need better and deliver it. I ask questions along the way. Based on their answers, the amount of time they take to answer them, and their comfort level with being asked questions, I can change the pace of delivery of the topic. If they answer my questions fast and correct, I speed up, enabling them to make maximum use of their time with me. If not, I slow down and start asking simpler questions, making sure they really take the time to nail down core ideas and concepts.
What types of materials do you typically use during a tutoring session?
I use the whiteboard and the mathboard heavily. The whiteboard is used to draw diagrams that dramatically simplify long, wordy, and seemingly complicated problems. The mathboard is used to type out equations and formulae. I also use whiteboard tools to circle important parts of equations typed on the mathboard, drawing connecting arrows between related formulae and diagrams.