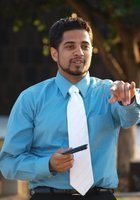 Yash
Certified Tutor
Teaching has been a passion of mine ever since I can remember and I have acted upon that passion as a tutor as early as my days in high school. I believe it is not just enough to know a piece of information, but a tutor needs to be able to convey that information in a clear and concise manner to the student. Most importantly however, he/she needs to teach in an encouraging manner and have the patience to stay at it with the student if they are not able to understand the concept right away. I believe I make a great tutor not only because I have almost a decade of experience, but especially because I am always equipped with encouragement and patience.

Aside from teaching I also enjoy playing sports, instruments, and having a good time with friends. I think these hobbies help make me relate to students which is important because they are able to see me as an equal in a similar stage of life, making it easier to learn rather than if they just saw me as someone who is there to tutor them.

My goal for becoming a Varsity Tutor is best summarized, I think, by the following quote, "The mediocre teacher tells. The good teacher explains. The superior teacher demonstrates. The great teacher inspires."

Test Scores
ACT Composite: 33
ACT English: 32
ACT Math: 34
ACT Reading: 31
ACT Science: 32
MCAT: 29
Hobbies
Playing / watching sports, playing/listening to music, reading
Tutoring Subjects
Anatomy & Physiology
Drum
Drum and Percussion
Elementary School Math
Music
Percussion
Pharmacology