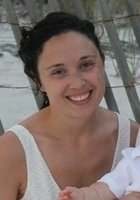 LaDawn
Certified Tutor
Within the last ten years, I have found myself exploring many different avenues during my career hunt. From volunteering at a pediatrics office to interning in research labs at LSU & UNC to teaching & tutoring high school/college students, I have come to one conclusion. I like teaching science to people--any age. I love finding new analogies and tricks to explain a difficult topic. I like to entertain--make science humorous and relevant.

There was a period in college when I was considering a doctorate, although my interest did not lie in research. I purely wanted the degree so I could become an instructor for a university. Unfortunately, this is not the answer interviewers want to hear when applying to their lab. After being rejected by three colleges, I resolved that my passion for science and teaching would be better received by younger students. And I was right. I loved engaging my kids in the complexities of biology and chemistry every day. Letting them explore and investigate on their own was fun for both me and them.

So why not teach anymore? If any young teacher is asked why they quit, I'm sure most will give the same answer: "huge workload." I commend any woman who finds a balance in this realm. But it was invading my home life, and since I have a one-year old son now, I want to be able to turn off and be a mother when the work day ends. This is why I prefer tutoring. I still get to help young adults find clarity in the most obscure content by employing means that they enjoy or relate to, and at the end of the day, I get to be a mom and wife.

Hobbies
camping, water skiing, sewing, weight training, wood working, DIY projects
Tutoring Subjects
College Biology
College Chemistry
High School Biology
High School Chemistry
Middle School Science
Physical Science