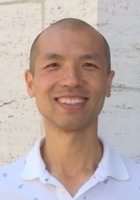 Tony
Certified Tutor
I was born and raised in Beijing, now I live in New York City. I have extensive experience teaching young kids about Chinese history, Culture and language.

I'm a graduate of NYU's Teacher of Chinese Foreign Language in Elementary School program and I specialize in teaching Mandarin to kids age from 5-13 yrs.

I look forward to teaching your students Chinese in a fun, engaging, and memorable way.

Education & Certification
Undergraduate Degree: Beijing Foreign Studies University - Associates, English
Hobbies
History-(I used to help students to organize on-site history/culture study trips) and Traveling
Tutoring Subjects
Conversational Mandarin
Mandarin Chinese 1
Mandarin Chinese 3
Mandarin Chinese 4
What is your teaching philosophy?
1. I believe applying "Backward Design" method (i.e. to set up the language proficiency target, then make concrete step-by-step plan on how to make that happen) is the best way to ensure the most effective teaching experience. 2. In terms of language learning, I believe a good teacher should do whatever possible to help the students to practice the language.
What might you do in a typical first session with a student?
Introduce myself and find out more about the students. Reconfirm the language proficiency target we are working on and set up the class rules.
How can you help a student become an independent learner?
The best way to help a student to become an independent language learner to give the students the means to ask questions in the target language, so that the student can navigate while using the target language.
How would you help a student stay motivated?
I am really good at engaging my student by relating to the subjects that are interested to the student. Depend on the time of the year and what the current curriculum the student is learning, I will do my best to infuse the school curriculum to ensure there's a balance of language, content and culture objectives in the class.
If a student has difficulty learning a skill or concept, what would you do?
I will try to use different ways to elaborate the skill or concept to the student, with the prior knowledge of skills or concepts the student already has.
How do you help students who are struggling with reading comprehension?
First of all, I do not want any students feeling that they are struggling. I will adjust the level of the class and maybe try to review what the student has learned so far before moving on for any new materials.
What strategies have you found to be most successful when you start to work with a student?
The "Backward Design" concept from Professor Helena Curtain, the Foreign Language Specialist, which means language teaching needs to set a realistic target first, breaking the teaching of the target language into steps so that you can achieve the best result.
How would you help a student get excited/engaged with a subject that they are struggling in?
Definitely to make language study a fun and engraving experience. I will help the student to review how much they already know about the subject, and then we will explore together in the areas the student is interested in.
What techniques would you use to be sure that a student understands the material?
To make sure the student understands the material, I normally ask the student multiple questions.
How do you build a student's confidence in a subject?
I will encourage the student to try to use the language, and turn that into an empowering experience to boost the student's confidence.
How do you evaluate a student's needs?
I constantly evaluate a student's need to come back to our goal for the study of the target language, and make sure we have the same expectation and goal. If there are changes along the way, then I would adjust my teaching plan.
How do you adapt your tutoring to the student's needs?
I adapt my tutoring, listening, and communication with the student and parents and ask for their feedback.
What types of materials do you typically use during a tutoring session?
Textbooks, flashcards, charts and other multimedia materials.