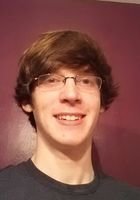 Mitchell
Certified Tutor
I am currently a sophomore at the University of Maryland, Baltimore County, pursuing my bachelors degree in Computer Science. I have a wide knowledge of mathematics and computer programming. My strongest subjects being Algebra I, Algebra II, Calculus I, Calculus II and C++ programming. By understanding these concepts, I can teach other students the methods to solve the problems in these areas.

In the summer of 2013, I tutored middle school students in Algebra. I supervised a total of 10 students and helped them understand the concepts and study for important tests. During that summer, I worked with these students and helped them improve their skills in these areas. I have always found teaching these subjects very rewarding. I'm thrilled to see students understand the information and have the ability to do well in their classes.

I'm very excited to start tutoring students enrolled in Varsity Tutors. I hope that I can make a difference in these students' lives and improve their skills in mathematics.
Hobbies
Web Development, Android Development, Piano
Tutoring Subjects
C++
College Computer Science
High School Computer Science