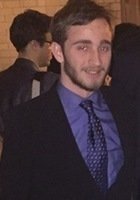 Benjamin
Certified Tutor
Hi guys, I'm Ben! I'm originally from Buffalo and now I'm a sophomore at American University in Washington, DC. I'm an International Studies major and I intend to minor in Arabic. I took Spanish all through middle and high school and love to learn languages, and anything else international or political and I look forward to helping you learn too!
Education & Certification
Undergraduate Degree: American University - Current Undergrad, International Studies
Hobbies
Watching/playing soccer, learning languages, spending time with my friends, keeping up with the news and current events, etc
Tutoring Subjects
College Geography
Conversational Spanish
High School Geography
Political Science
Social Sciences
Spanish 1
If a student has difficulty learning a skill or concept, what would you do?
Break it down and take it slowly, making sure the student understands each level of the skill from the foundation and up. That's my methodical approach to finding the lapse in information or whatever the problem may be.
How do you help students who are struggling with reading comprehension?
I think it's helpful to give students real life applications or examples of reading in order to help them better understand the reading. That's what works best for me.
What is your teaching philosophy?
Taking things slowly step by step, to ensure that there is no gaps in knowledge. I also like to take a more friendly approach with the students, as I found myself learning better when I was comfortable in a more equal and friendly environment.
How can you help a student become an independent learner?
Show them how to work step by step through a problem on their own. When working through a problem, I ask the student what the answer is in the next step and I ask them why. It is incredibly important for learners to know why an answer is the answer.
How would you help a student stay motivated?
Some may say it is cliche, but after getting into and attending a college I know the importance of good grades and understanding key concepts, and I pass that idea onto students. Whether it be getting a good job, getting into a good college, or using the information they are learning in the real world, they need to know whatever it is they are trying to learn.
How would you help a student get excited/engaged with a subject that they are struggling in?
I apply the same concept I mentioned in the question regarding keeping a student motivated. I will make a real world connection to whatever the subject may be using is. For example, with political science, they'll be able to understand government and the way nations run better, with Spanish, they'll be able to communicate with hundreds of millions speakers globally, and etcetera.
What techniques would you use to be sure that a student understands the material?
When I work through a problem with a student, I have the student why the answer is the answer and to ensure they fundamentally and wholly understand what they are saying.