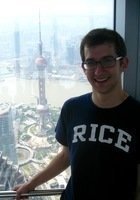 Everett
Certified Tutor
I am a tutor in the Virginia Beach area. I am available for private instruction in many different subjects, and I hope to provide services that are personal, affordable, and convenient. Since I've started tutoring, I've enjoyed getting to know my students, embraced the challenge of finding the best way to help each one, and celebrated every improvement. Outside of academics, I am a professional classical musician and am active as a French horn teacher and performer.

I've worked as a tutor at a math tutoring company for two years, where I've gotten a lot experience with students from Kindergarten through 12th grade. I'm very familiar with the best techniques for teaching mathematics at many different levels. I've also done some private tutoring in calculus and in study skills and organization. My main education is in music performance. I have four years of experience as a French horn teacher, working with students in grades 6-12. I enjoy the variety of teaching these different subjects.

Math is my specialty and the subject I have to most experience tutoring. I got a 740 on the SAT Math section and a 5 (top score) on the AP Calculus test.

My schedule is quite flexible, so I'm always happy to try and accommodate your availability. If you have questions about me, my tutoring services, or my rates, or you are interested in setting up your first session, please contact me.
Test Scores
SAT Composite (1600 scale): 1510
SAT Math: 700
SAT Verbal: 740
SAT Writing: 750
Hobbies
Music, Reading, Television, Biking, Video Games, Making Ice Cream
What is your teaching philosophy?
Tests, while important, are secondary to developing students' critical thinking, problem solving, and creativity. Everyone learns differently. If I see that one explanation isn't clicking with a student, I find a new way to say it.
What might you do in a typical first session with a student?
I like to get to know a little about each student before diving into the material. I want to know their interests and hobbies, their favorite classes, and what they are hoping to gain from our tutoring sessions. I then like to start by observing them answer a few practice questions, to see what they know and how they work. From there I can decide what our priorities need to be.
How can you help a student become an independent learner?
It is very important for a student to develop independence so that they can leave a tutoring session confident that will be able to succeed on their own. I like to ask the student a lot of questions, even if I'm demonstrating how to solve a problem myself. I say out loud all the things that I'm thinking, so that they start to get a sense of how I approach the problem. I also like to have students "teach" problems back to me, so that I can really see if they have a strong understanding of it.
How would you help a student stay motivated?
It's important to celebrate even small victories, so that a student feels like they are continuing to make progress. I do my best to be encouraging, positive, and supportive. It also helps to work with the student to set specific, clear goals to work toward.
If a student has difficulty learning a skill or concept, what would you do?
Every student learns differently. An explanation that works for one student may not work for another. I try to be ready with multiple ways to explain a single topic, so that if student is still confused after one method, I can quickly shift to a different method. You can usually see an instant change in the student when something finally clicks, so I always watch their face to see how they respond.
How do you help students who are struggling with reading comprehension?
I have students find and underline key phrases. I also like to have them explain to me what the passage is about in their own words. Asking them to summarize what they just read helps develop comprehension and retention.
What strategies have you found to be most successful when you start to work with a student?
When I first start working with a new student, I like to watch them work a few problems on their own. It helps me see how they approach a problem and how they work towards a solution. I use this to see their strengths and weaknesses, and then I can come up with the best way to work with that specific student.