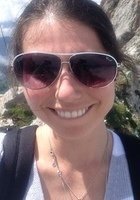 Megan
Certified Tutor
I am a University of South Florida graduate with a degree in English and I love reading, writing and all things literature. I have a passion for words, their variety of meanings and even their histories and origins. Reading and writing are the key building blocks to success, whether it be academic, vocational or personal, those two skills continue to build throughout life; the better a person wields them the greater success that person experiences.

As a former secondary English and Reading teacher and I am excited to help students grow and excel in the arts of reading and writing.
Education & Certification
Undergraduate Degree: University of South Florida - Bachelors, English
State Certified Teacher
Hobbies
Literature and writing are things I have enjoyed all my life. I also enjoy the outdoors, dogs, baking and eating.
Tutoring Subjects
College English
Comparative Literature
FCAT 2.0 Prep
High School English
Other
What is your teaching philosophy?
Education is art. It is necessary for life. It is given and received by different people in different ways and as a result, there is not always a cut and dry way to convey learning, and so it needs to be tweaked for students in ways that will speak to them and touch them, making them apt to remember it and apply it as they go throughout life.
How can you help a student become an independent learner?
I encourage students to ask questions (and I ask them many as well), no matter how great or small because it is by the questioning process, and often times the mistake process, that they begin to take their learning into their own hands. Most students become independent learners gradually. As they grow and continue their educational careers a natural curiosity begins to spring up, causing them to ask more questions and investigate more answers for themselves.
How would you help a student stay motivated?
When things are overwhelming and difficult it is imperative that students keep sight of their end goal/s. I like for students to write a personal mission statement and then have them refer back to it periodically and reflect upon it. Do they feel like they are growing towards their goal? I have students look back on how they have grown, and conversely, if they feel they have not made gains, then why do they think that? Goals are reached in steps and I like students to see the incremental progress they are making so they don't become frustrated with lack of achievement.
If a student has difficulty learning a skill or concept, what would you do?
Break it down further. It's all in practice. Olympic athletes don't win the gold without ever having stepped foot in a gym. By giving additional explanations, examples and practice students can look at a concept, or standard, in small pieces rather than the entire overwhelming task.
How do you help students who are struggling with reading comprehension?
If a student struggles with comprehension then I give them summarization strategies to chunk what they are reading into small portions. However, oftentimes students don't struggle with reading comprehension so much as they do boredom with the material, in which case they get strategies to stay focused on the reading material so their minds do not wander, thereby causing them to immediately forget what they read.
What strategies have you found to be most successful when you start to work with a student?
Getting to know what makes students tick. Most students like to know that their teachers understand a little bit about them.
How would you help a student get excited/engaged with a subject that they are struggling in?
I like to try to make everything as applicable as possible to real life so that students can see how they will use it in the future. Also, I tend to become very excited about reading
What techniques would you use to be sure that a student understands the material?
I ask my students a lot of questions to ensure that they are understanding the material. I also have them explain things back to me in their own words.
How do you build a student's confidence in a subject?
Positive reinforcement for each step taken towards the student's goal.
How do you evaluate a student's needs?
Initially I ask them what areas they need to grow, and then I continue diagnosis the students as they begin to progress.
How do you adapt your tutoring to the student's needs?
The same texts or materials can be used for students on a variety of levels and they can be adapted simply by having students look for different things within it.
What types of materials do you typically use during a tutoring session?
Short stories, portions of novels, poems, songs, newspaper articles. I use a variety of texts that I think will engage the learner.
What might you do in a typical first session with a student?
Introductions, getting to know the student and telling the student a little bit about myself. It is also important to establish goals and expectations for both tutor and student.