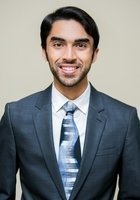 Muhammad
Certified Tutor
I graduated in 2015 from the University of Houston with a bachelor's degree in French, as well as a minor in both Biology and Business Administration. However, I still consider myself a pre-dental student, because main goal is to become a dentist.

I have plenty of experience in tutoring high school students in the French language and culture, mostly through judging them in various events at the Texas French Symposium, a state-wide high school French competition for students in all levels of French. I absolutely love sharing my love of the French language and culture with others. As for Biology, and most other sciences, I find that most students struggle in learning the tiny details because they have trouble understanding the major concepts behind those details. I too once had these exact difficulties, and because I have learned from my mistakes, it would be bring me great joy to help other students overcome these obstacles.
Hobbies
Reading, traveling, learning about different cultures and new languages
What is your teaching philosophy?
My philosophy on teaching is to adapt my methods of teaching to whichever one will most benefit my students and keep them engaged.