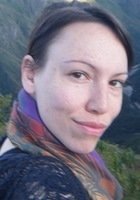 Cindy
Certified Tutor
I like to think that everyone is their own, personal brand of genius. However, for those times when we struggle, there is no shame in asking for a little help. I graduated, cum laude, from Rowan University in 2013 with my BA in English. During this time, I served as a NJ certified substitute teacher. I explored varied career options: manuscript editing for SLACKinc medical publishers, freelance writing for Philadelphia's Headspace magazine, and tutoring privately in English composition. Teaching became a true passion of mine while I was becoming certified to teach English as a foreign language during several weeks in Cusco, Peru. After which, I came back to the States in pursuit of my Master's degree in subject matter education and my NJ standard teaching certificate. When I am not working towards this goal, I am painting, reading, or traveling. I spend much of my spare time on my yoga mat in order to stay in shape for summer hiking trails. I am an avid hiker and backpack traveler and believe in the value of a healthy body and mind. Yoga, in particular, has assisted me in pushing boundaries, cultivating a positive outlook, and maintaining a sense of self-discipline. These are values that would aid any student.
Education & Certification
Undergraduate Degree: Rowan University - Bachelors, English
Hobbies
Hiking, Art, Yoga, Travel, Literature, Live Music, Spanish and much more
Tutoring Subjects
College English
Comparative Literature
High School English
What is your teaching philosophy?
Learning should be fun, relatable, and interesting. As a teacher, I strive to make every lesson one that my students can connect with and that speaks to their own learning styles and life interests.
What might you do in a typical first session with a student?
In a first session, my goal is to get to know my student and have them get to know me. We need to be comfortable with each other; at which point, we can identify strengths and weaknesses and begin sharing our interests and lives.
How can you help a student become an independent learner?
Students should not be fed answers; but rather, guided to think critically. Guidance on any task should be eliminated incrementally until the learner is operating independently. Eventually, step by step, the student will gain the confidence and strategies to learn independently.
How would you help a student stay motivated?
Most students need help to be motivated. By setting achievable learning goals for them my students will feel accomplished and be able see their own progress.
If a student has difficulty learning a skill or concept, what would you do?
With difficult concepts we would take it slow and use guided practice or attempt to view the problem from and new or relatable angle.
How do you help students who are struggling with reading comprehension?
I promote active reading to enhance a student's reading comprehension. This would include chunking the reading into logical sections, questioning and elaborating on what has just been read to cement understanding, and even notetaking if necessary.
What strategies have you found to be most successful when you start to work with a student?
I like to assess my students by giving them tasks to complete. I can then evaluate their performance while provide feedback and due praise for areas of success. We can focus on problem areas together using relatable material with supported practice.
How would you help a student get excited/engaged with a subject that they are struggling in?
I would guide the student to increase confidence and comfort with the subject. I might also try a new creative approach that relates to my student in an individualized way while presenting them with an intriguing challenge that they have the tools to overcome.
What techniques would you use to be sure that a student understands the material?
I would ask the student concept check questions, require them to elaborate, and apply the lesson in practice.
How do you build a student's confidence in a subject?
Practice and preparation are key to building confidence in a subject; but also, correctly scaffolding the student's learning will ensure confidence by accommodating the student's skill level.
How do you evaluate a student's needs?
I evaluate a student's needs by evaluating their previous performances, observing their attitude, and testing their skills. Asking the student what they feel their own needs are is also important.
How do you adapt your tutoring to the student's needs?
My approach adapts to the students learning style and personality. I do not do blanket reviews, but rather target the areas that are in need of improvement.
What types of materials do you typically use during a tutoring session?
I use games, puzzles, books, visual aids, flash cards, colorful pens and highlighters, worksheets, and any other materials specific to the lesson.