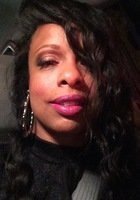 Lanisa
Certified Tutor
I am currently in school at Liberty University finishing my EdS in Educational Leadership. Upon matriculation, I will transfer into the doctoral program to earn an EdD in educational leadership. I have been teaching science for over 10 years in diverse educational settings to all tiers of students. I am available to serve you with any of your science needs and have numerous strategies available to assist all learning modalities.

My personal philosophy is that all students can make progress. Inherent motivation and engaging lessons are key factors in student achievement. I encourage students to view material they do not readily comprehend as a challenge to overcome. Education can take students anywhere they want to go, if they are willing to get in the vehicle.
Education & Certification
Undergraduate Degree: University North Carolina at Greensboro - Bachelors, Biology, General
Graduate Degree: Cambridge College - Masters, Special Education
Hobbies
My hobbies include reading, dancing, working out, cooking, anything to do with water and beach life, and planning children's birthday parties. I have strong interests in community service, working on projects that serve low income families, and grant writing.
Tutoring Subjects
College Biology
High School Biology
Life Sciences
What is your teaching philosophy?
I believe all students can learn and achieve to reach their individual optimal level.
What might you do in a typical first session with a student?
In a first session with a student, I would implement an icebreaker activity, perform a learning style assessment, assess the student on content material to determine their content strengths and weakness, and then create an individual tutoring plan with student input.
How can you help a student become an independent learner?
I am able to assist a student becoming an independent learner by scaffolding assignments and learning. I would increase the taxonomic levels; however, I'd decrease the amount of support each assignment requires.
How would you help a student stay motivated?
I would assist a student with remaining intrinsically motivated with goal setting and using an assessment graph. The student will be able to chart and have a visual representation of where they began, and how close to the goal they come from session to session. I would offer incentives to support extrinsic motivation (food gift cards, stickers, pencils, etc.) depending on the student's grade and age.
If a student has difficulty learning a skill or concept, what would you do?
If a student has difficulty learning a skill or concept, I would reteach the skill at its most basic level, and increase the rigor upon comprehension.
How do you help students who are struggling with reading comprehension?
I assist students who struggle with reading comprehension by best practices for pre-reading, during reading, and post-reading strategies.
What strategies have you found to be most successful when you start to work with a student?
When I first begin working with a student, the strategies I have found to be most successful are: conducting a learning style inventory, assessing the knowledge of content, goal setting, and designing and implementing a student success plan.
How would you help a student get excited/engaged with a subject that they are struggling in?
I would assist a student with becoming engaged with a subject where they struggle by using meaningful real-world examples, introducing them to outside resources to support learning, and using weird facts to give the "wow" factor or spark the "aha" moments.
What techniques would you use to be sure that a student understands the material?
The techniques I would use to be sure a student understands the material are: pre and post assessment, checking for understanding during the lesson, and closure assessments.
How do you build a student's confidence in a subject?
I would build a student's confidence in a subject by assessing using different modalities. I would create assessments that the student could build, write, choose correct responses, interpret diagrams, etc. I would also have the student track their progress to have a visual picture of their increasing progress. This would assist their motivation as well.
How do you evaluate a student's needs?
I evaluate student needs by pre and post assessing. I also check for understanding during the lesson. I give students the opportunity to express where they require assistance; and I see how far they can get through understanding before requiring assistance with independent practice.
How do you adapt your tutoring to the student's needs?
I adapt tutoring to my student's needs by having a battery of strategies and materials on hand, ready to implement at all times. I pride myself in combining best practices with my experiences in science education to produce positive measurable outcomes.
What types of materials do you typically use during a tutoring session?
During a tutoring session, I normally use an Internet connection, laptop and/or iPad, arts and craft material, manipulatives, videos, vocabulary and writing strategies, games, released SOL and Regents questions, virtual and actual hands-on labs, and demonstrations, if we are in the actual home of the student.