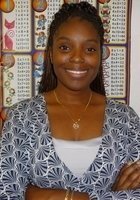 Chandoue
Certified Tutor
I am a graduate of Florida Memorial University (located in Miami) with a Bachelor's in Elementary Education and endorsements in Reading & ESOL. I have been teaching for six (6) years and have taught ALL subjects from grades 4-9. My favorite subjects are Reading & Math but I find myself more partial to Reading as of late. For the last three (3) years I have been an Intensive Reading teacher for 5th, 6th & currently 9th grades. My teaching philosophy is as follows: Every child deserves a quality education & because we all learn differently, it is neccessary to differentiate teaching in order to meet students needs. That's why I am a great proponent of "Intimate Learning". A one-on-one environment where a student gets induvidualized, focus attention without any fear of being judged by students or teachers for what they may not know, remember or understand. I utilize a lot of games and hands on activities when differentiating my instruction. Outside of the classroom, I am a happily married, mother of six (6) children ages 2-15. My hobbies include reading a good book, bowling and going to church.
Education & Certification
Undergraduate Degree: Florida Memorial University - Bachelors, Elementary Education with Reading & ESOL Endorsements
Hobbies
Bowling, Reading & church activities
What is your teaching philosophy?
Every child can be taught. If they're teachable, they're reachable.
What might you do in a typical first session with a student?
In a typical first session, I will f
How can you help a student become an independent learner?
In a typical first session, I will focus on setting the stage. Getting to know a little bit about the student (likes & dislikes for purpose of incentives down the road) as well as diagnosing the underlying problem that's causing the student's struggle.
How would you help a student stay motivated?
I help my students stay motivated through incentives, educational games, and occasional 'reality check' conversations.
If a student has difficulty learning a skill or concept, what would you do?
I use differentiated instructions to help my students grasp concepts, as well as offer many opportunities to practice the skills until mastered.
How do you help students who are struggling with reading comprehension?
Struggling readers will receive concentrated instruction in ten comprehension skills. For example: finding main ideas & key details, predicting, etc.
What strategies have you found to be most successful when you start to work with a student?
I've found that students respond well and are more apt to retain the info taught when I incorporate educational games.
How would you help a student get excited/engaged with a subject that they are struggling in?
Students get excited when incentives are offered & games are incorporated.
What techniques would you use to be sure that a student understands the material?
I use informal & f
How do you build a student's confidence in a subject?
I utilize progress monitoring to chart student growth. As I share this data with the student, it builds their confidence.
How do you evaluate a student's needs?
I utilize several diagnostic assessments to evaluate student's needs.
How do you adapt your tutoring to the student's needs?
Student data drives my instruction.
What types of materials do you typically use during a tutoring session?
I usually use technology & worksheets.