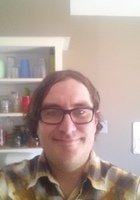 Travis
Certified Tutor
I'm currently enrolled and quite close to graduating college to teach math. Most likely middle or high school, but I do enjoy working with younger students as well. I've always been good at helping my fellow students, friends, and children of my friends at increasing their math skills. I've also given drum lessons for years. I'm passionate about teaching and find it incredibly rewarding. I need to do some sort of good in this life and teaching is what I have chosen.
Education & Certification
Undergraduate Degree: acc/texas state - Current Undergrad, Education
Undergraduate Degree: ACC/Texas State - Current Undergrad, Education
Hobbies
I enjoy music, I used to be a professional musician, so I play a lot of drums and ukelele. I like movies, playing board games, and cards. I like basketball and football. I play tennis and go bowling quite often.
What is your teaching philosophy?
I encourage my students to answer the questions instead of me just giving the answers. I think that math doesn't have to be boring; I try to make it as enjoyable as possible to keep everyone (including me) interested.
What might you do in a typical first session with a student?
I get a feel of how much the student already knows and, more importantly, if they understand what they think they know. I then try to set a game plan and a pace that will get the results the student desires.
How can you help a student become an independent learner?
I believe that studying needs to be done on the student's own time. I'd give some questions to take home, perhaps some pushing the limits of what we've been studying. Working alone is the best way to become an independent learner.
How would you help a student stay motivated?
Hopefully the success the student will achieve will keep them motivated, but I'm always trying to come up with interesting methods to teach, as well as problems that are based around the student's interest and hobbies.
If a student has difficulty learning a skill or concept, what would you do?
I would change the way we were approaching the problem. There are numerous methods to teaching math. In math, everything builds on what you've just learned, so you have to be comfortable with every step. I have no problem working on areas that are difficult.
What techniques would you use to be sure that a student understands the material?
I'm dealing with math, so it's important that they show all their work. From that, I can see what they are doing wrong, and can work on that step of the process. I like to do review sessions to make sure they are retaining the information as well.
How do you build a student's confidence in a subject?
With proper encouragement will come confidence. I think the biggest confidence builder will be seeing their grades improve, and hopefully having the homework seem easier and less time consuming to do correctly.
How do you evaluate a student's needs?
I evaluate students on a person to person basis. I really have to see how they are trying to find the answers to the questions to evaluate their needs.
How do you adapt your tutoring to the student's needs?
This a student to student situation that takes some time to pinpoint what works for the individual. I'll always ask them what is helping them understand the lessons the most and stick with that.
What types of materials do you typically use during a tutoring session?
Lots of paper, pencil, markers, and a calculator.
What strategies have you found to be most successful when you start to work with a student?
To ease into the learning process so I can see exactly where they need help.
How would you help a student get excited/engaged with a subject that they are struggling in?
I try to stick with their interests and hobbies and incorporate those into lessons.
How do you help students who are struggling with reading comprehension?
I would most likely have to recommend them to a specialist. I only teach what I can teach with excellence.