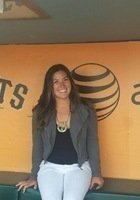 Chloe
Certified Tutor
I graduated from Mount St. Mary's University with a Bachelors of Science in Elementary Education in the Spring of 2012. I currently hold my Maryland Elementary Education Teaching Certification and am working towards getting my Texas Teaching Certification. After college, I moved back to my home in San Diego, CA. There, I was a substitute teacher until I got a full time job as a Pre-Kindergarten teacher at The Academy of Bright Horizons which focused more on academics to get the students ready for Kindergarten. After I taught Pre-K, I became a nanny for an amazing family whose kids were 4 and 6 years old. After school, I would pick up the 6 year old and start her homework with her. I was able to help guide her through the homework and gave her tips on how to study. I love teaching and I am excited to help tutor your child!

I believe that each student is special and each person has a different method of learning. I want to incorporate various methods of teaching to help your student reach his or her's highest potential. I am a personal fan of playing games to help a student understand a concept. I believe that learning should be fun! It is important to find out a student's interests. By finding out their interests, I can relate to them more and teach a concept through what relates to them. I never want learning to be a burden and I don't want a student to feel overwhelmed by learning. That is why I believe games, songs, and different hands-on activities are very important for student's learning.

I look forward to meeting you and your child! I am ready to create the best tutoring experience for your family and am excited to see your child learn and grow throughout the process!
Hobbies
Softball, hiking, swimming, paddleboarding, being active outdoors, dog walking, reading, listening to all different kinds of music, and going to concerts
Tutoring Subjects
1st Grade
2nd Grade
3rd Grade
4th Grade
5th Grade
College English
Elementary School
Elementary School Math
High School English
Homework Support
Other
Study Skills
Study Skills and Organization