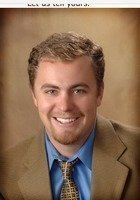 Tony
Certified Tutor
Having recently graduated from a university with a curriculum heavily focused on ways in which one can be an active participant in the betterment of society, I aim to use my vast expanse of analytical skills and science knowledge to impart successful study strategies as well as the love of learning I have experienced in my years of college. I have, several times over, proved my dedication to knowledge and my passion for science as I graduated summa cum laude with a BS in Biology and a minor in chemistry. I achieved the aforementioned degrees as a top performer on my university baseball team and earning accolades of Capitol One Academic All American. As a tutor, I have been recognized by both my clients and my peers alike for my enthusiasm for math and science and my ability to reach students of all academic abilities and personal interests. Working at a renowned cardiology practice here in Colorado, I have honed my professionalism by working with experienced doctors and grown in my compassion for patients. I intend to use my unique mixture of professionalism and ability to connect with people quickly to develop a rapport with students, and hopefully, help them to grow as students as well as human beings by enriching their passion for learning and success.
Education & Certification
Undergraduate Degree: Regis University - Bachelor of Science, Biology, General
Hobbies
Baseball, snowboarding and hiking 14ers
Tutoring Subjects
Biomedical Engineering
Chemical and Biomolecular Engineering
College Biology
College Chemistry
College Physics
High School Biology
High School Chemistry
High School Physics
Homework Support
Other
Study Skills
Study Skills and Organization
Summer
What is your teaching philosophy?
I believe that there is no single way of living or learning, and via the same logic I believe that there is no single teaching philosophy. In a sense, I believe that my style would best be described as transient, because I do my best to adapt my strategies and style based on each individual. Overall, my experience has been anyone whom is interested in learning can and will surely learn when they are with me, as I will feed off of their personal enthusiasm and turn that feeling into an overwhelming sense of motivation. When a student becomes highly motivated to learn, coupled with the aid from an encouraging and knowledgeable individual such as myself, learning then becomes fun and easy. In a sense, my style is to foster a sense of personal confidence, backed with factual knowledge, that can turn a subject that previously seemed impossible to learn into a subject that an individual can feel confident they can conquer!
What might you do in a typical first session with a student?
I believe that introductions and getting to know the student are essential in developing a relationship where the student feels confident that they can learn from me. After introducing myself and briefly talking about personal interests, I would start asking narrowing questions to assess the areas the student feels he or she needs enhancement or improvement in. I would then use a combination of the requests of the student and my own discretion to determine what should be focused on during the session. I typically watch students work until they reach a point where they're stuck and request help. This allows me to both gain insight into how they work/process information and to evaluate their basis of understanding. From there, I ask narrowing questions and determine areas of strength and weakness. I find that trying to help the students make connections between the material they are struggling with and their long-term goals tends to motivate students in a more meaningful and lasting way than simply drilling them and encouraging short-term retention of knowledge. For this reason, after the first session, I take note of what interests the student and what he/she is working to improve. At each subsequent session, I will integrate what he/she is struggling with into the new material and do my best to emphasize the relevance of the material to the interest of the student.
How can you help a student become an independent learner?
I have found, through my previous experience as a tutor, that students oftentimes have a simple disconnect in their understanding or retention of the material. Simply coaching them into better study habits or giving them access to better materials will, in the long run, make them independent.
How would you help a student stay motivated?
I find that motivation arises from a sense of interest in a specific topic or from an activity that can peak an individual's interest. Typically, the traditional learning process of being hand-fed facts to study and memorize, and then to be asked to simply regurgitate these facts on exams, is rather mundane and boring, and fails to captivate a population of students' interests. Furthermore, I find that the traditional learning process described above is one of the main reasons why students have little to no motivation for subjects that are initially less interesting to them. Therefore, I will not attempt to tutor in a "traditional fashion." In turn, I will aim to tutor the individual student and to make the learning process interactive and understanding based rather then regurgitation based. As the student becomes more familiar with the topic, I will continue to mix up learning strategies and, in theory, concurrently maintain their motivation for continued learning.