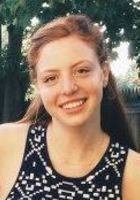 Lee
Certified Tutor
Originally hailing from Manhattan, where I attended the Brearley School, I eventually moved to rural Vermont where I grew up on a farm. In Vermont I competitively ski raced and played on the Varsity Tennis team. I attended Middlebury College, class of 2015, where I majored in Economics and minored in French. Throughout high school and college I have tutored an extremely diverse group of clients ranging from language study for adults, test preparation for rising seniors, and peer tutoring at the college level. This past year I worked on staff as the part time geometry tutor at Red Cedar Middle School. I have three siblings and I love young children. I worked as a camp counselor at Aloha Hive in Fairlee Vermont the summer of 2012. I'm excited to meet you, and am happy to provide additional references and answer any of your questions.
Education & Certification
Undergraduate Degree: Middlebury College - Bachelor in Arts, Economics
Test Scores
SAT Math: 700
Hobbies
skiing, tennis, cooking, math, finance, economics
Tutoring Subjects
8th Grade Math
Art
College English
Conversational French
Elementary Algebra
French 1
Handwriting
High School English
Macroeconomics
Other
Study Skills
Study Skills and Organization
Vocabulary
How can you help a student become an independent learner?
I will help a student become an independent learner by assigning smaller projects and activities for them to work on alone, which we will then review together. In addition, I recommend practicing skills such as critical reading on all assignments and finding useful research resources.
How would you help a student stay motivated?
I would help a student stay motivated by assigning small, manageable tasks and providing constant feedback. I try to break up tutoring sessions so that the student focuses on several different types of skills and learning activities each time we meet.
What strategies have you found to be most successful when you start to work with a student?
I find it is helpful to focus on both strengths and weaknesses. This way, students are more patient with difficult material and remain engaged for longer periods of time.
How would you help a student get excited/engaged with a subject that they are struggling in?
I try to incorporate hands-on activities into my lesson plans. Students often wonder: "why is this important," and demonstrating real-world applications keeps them engaged and interested.
What techniques would you use to be sure that a student understands the material?
To determine if a student has fully grasped a difficult concept, I ask them to explain the lesson to me, proving that they understand the material inside and out.