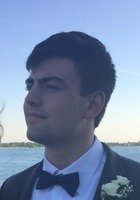 Phil
Certified Tutor
I am a chemistry/math tutor with hundreds of hours teaching both subjects. What separates me from other tutors is my fantastic attention to the learning styles of different students, and my ability to attune my teaching style to each individual student. I am a big believer in letting students utilize tutoring time in the way they believe best, and I try to make myself a resource more than an instructor, which reinforces good study habits as well as lets me help the student with subject material. I will be attending the University of Michigan to major in Mathematics in the Fall.
Test Scores
ACT Composite: 35
ACT English: 34
ACT Math: 35
ACT Reading: 33
ACT Science: 36
SAT Composite (1600 scale): 1480
SAT Math: 770
SAT Verbal: 760
SAT Mathematics Level 2: 740
SAT Subject Test in Chemistry: 800
Hobbies
Reading, Rugby, Football, Music
Tutoring Subjects
College Chemistry
High School Chemistry
Honors Chemistry
What is your teaching philosophy?
I believe that to learn effectively, a student must struggle on their own a little bit. To teach most effectively, I pay close attention to students' thought processes and try to correct errors at the base level of understanding rather than the procedural aspect of any subject.
What might you do in a typical first session with a student?
At the first session, I would likely spend 5 minutes getting to know the student and how they have been performing academically in the past, and then I would spend time identifying what the student's needs are. Each student has different needs, and it is incredibly important for me to recognize these personal needs at the start of our tutoring relationship. After I have identified any weaknesses/gaps in understanding, we would proceed to study the material together.
How can you help a student become an independent learner?
I believe letting your students struggle is a larger part of tutoring. Knowing when to help and when to let a student piece things together on their own is one of the hardest parts of tutoring. I tend to be good at recognizing the difference between these two scenarios, and I know when to let a student piece a problem together on their own.
How would you help a student stay motivated?
I offer lots of positive encouragement in every session. Also, I try to get to know my students so that my session feels more like getting helped by a friend rather than a professional tutor.
If a student has difficulty learning a skill or concept, what would you do?
If my initial explanation did not make sense to the student, I would offer an alternate one and some practice problems that illustrate the concept. I also am a strong believer in having students explain difficult concepts to me verbally.
How would you help a student get excited/engaged with a subject that they are struggling in?
I know how difficult it is to enjoy a subject that one isn't particularly skilled in. To help a student get more engaged in a difficult subject, I would try to help them understand it at the base level. Especially in mathematics, I feel that some of the reward is only gained when one has an intuitive understanding of the underlying concepts.
What techniques would you use to be sure that a student understands the material?
Alongside practice problems, I very often make my students explain material to me verbally. Explaining a concept can very easily illustrate any misconceptions a student has, and it allows me to fix them.