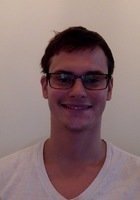 Samuel
Certified Tutor
I am a recent graduate of Bard College, where I studied Written Arts and Arabic. I wrote a 70,000 word novel as my senior thesis, and I am now attempting to have it published. I love cooking, and in the past I worked as a cook in a restaurant. I also worked as manual laborer for a landscape company, but, unfortunately, that did not lead to a love of gardening. I am an avid reader of all genres, and I love movies and TV as well. I love to travel , and I love languages, although my fluency in anything but English is questionable.
Education & Certification
Undergraduate Degree: Bard College - Bachelor in Arts, Written Arts
Test Scores
SAT Composite (1600 scale): 1530
SAT Math: 800
SAT Verbal: 790
SAT Mathematics Level 2: 750
SAT Subject Test in Literature: 790
SAT Subject Test in U.S. History: 710
SAT Subject Test in Mathematics Level 1: 720
Hobbies
Reading, martial arts, fermenting foods, meditation, movies, writing
What is your teaching philosophy?
Students learn best when they enjoy the topics they are studying. I try to teach materials that students will find fascinating.
How would you help a student stay motivated?
Motivation and interest are closely related. It is difficult to stay motivated when study materials are boring, so I try to build fun and interesting lessons. Additionally, I ask students to set academic goals, as there are few greater motivations than the reward of success!
If a student has difficulty learning a skill or concept, what would you do?
There are often many ways to think about a concept or to solve a problem, and approaching a challenge from multiple different angles makes difficult concepts easier.
How do you help students who are struggling with reading comprehension?
After determining the student's reading level and interests, I would select a book at that reading level that the student had not been exposed to, and that he or she would find cool and engaging. There are a myriad of books, so every student is sure to have a book that will enthrall him or her.
What strategies have you found to be most successful when you start to work with a student?
It is best to get to know the student: to assess what the student wants to get out of the tutoring experience, what his or her goals and fantasies are, what books and subjects he or she likes, etc. Creating a personalized tutoring program is integral for a student's success.
What techniques would you use to be sure that a student understands the material?
I like to have students explain to me how to think through a problem, as if they are the tutors. Additionally, I would craft short quizzes and assessments, and perhaps short paragraph questions, depending on the subject.
How do you build a student's confidence in a subject?
Confidence is built through trying and achieving. Over several sessions, the student would work on progressively more challenging concepts, after having mastered the previous topic. Through this process, the previously challenging topics will become easy and the student will build confidence.
What types of materials do you typically use during a tutoring session?
Books for textual samples, prepared standardized test questions, short essays, and then specific materials designed around a student. For example, for college essays, we might read several successful essays and analyze why they were successful.
What might you do in a typical first session with a student?
Provide sample problems to assess strengths and weaknesses, figure out interests and how the student typically studies, and determine what kinds of materials the student typically works with.