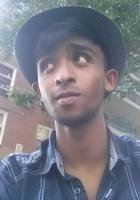 Farhan
Certified Tutor
I am studying at Queens College I want to try to get my Bachelors and then hopefully my masters in Math. I Tutor in Algebra, Geometry, Trigonometry, and Precalculus. I can also tutor elementary school and junior high school math. I generally like teaching Algebra because it makes it easier to teach the other maths after. Math is Logic. It should not be hard. Sometimes tedious, but not hard. If you are not understanding or struggling at math then you are simply not being taught in a way you understand. I like playing handball, soccer, football, and video games such as super smash, Dragonball Z, and league of legends. I love food, so I love going different places to eat and cooking too. When I teach someone, it reflects on me too, and because of that I feel I need to help them understand the subject as well as I understand it. I do best so my student succeeds on their studies.
Hobbies
Video games, programming, handball
What is your teaching philosophy?
Everyone is capable of doing math. They just need to be taught in a way that they can understand it.
What might you do in a typical first session with a student?
Get to know them a little and see what they have difficulty with.
How can you help a student become an independent learner?
Once they understand the basics of math, they should be able to look at complicated problems and break them down.
How would you help a student stay motivated?
Show them their progress and how they thought something else was really hard, but they did well on it.
If a student has difficulty learning a skill or concept, what would you do?
Try to explain it using examples they should be familiar with. Also, use diagrams to help them understand it visually.
How do you help students who are struggling with reading comprehension?
Help them understand what the questions are actually asking you. Break down the reading sentence by sentence to help them understand what the passage is telling you.
What strategies have you found to be most successful when you start to work with a student?
Make them laugh once in a while so they don't get bored and lose their attention. Once you get to know them a little better, you can use examples with things they already work with.
How would you help a student get excited/engaged with a subject that they are struggling in?
Show them that it is easier than they think. Once they see they can do it and it because easier, they get excited and enjoy doing more problems.
What techniques would you use to be sure that a student understands the material?
I give them problems that are relatively difficult compared to the questions they do. Also I ask them to explain every step they did for the question and why they did it.
How do you build a student's confidence in a subject?
Slowly help them improve on the subject and their understanding of it. When they see they're able to overcome their difficulty and do well in the subject, they become more confident.
How do you evaluate a student's needs?
First we do a test on the subject and see what type of problems they struggle with. Then I ask how they study, because that can affect why they are struggling to learn also. Lastly is I ask how much they sleep. Sleep is very important because it greatly affects how well you can process things, which is vital to math.
How do you adapt your tutoring to the student's needs?
Everything should be centered around the student when tutoring them. The style you teach. The examples you use. Patience is very important. Adjust everything to help the student progress the fastest.
What types of materials do you typically use during a tutoring session?
It depends on what they want help in. Some parents me want to help the students with their homework, so we work on the homework. Others want better scores on tests, so we work with tests and regents.