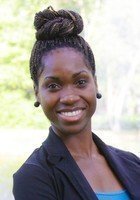 Brittany
Certified Tutor
Hello there, I love the study of life, specifically the anatomy and physiology of the human body. I hold a B.S. in Biology and Doctor of Chiropractic degree. I am also knowledgeable on the basics of nutrition as well. I take the time to listen and understand what my students are struggling with and develop a game plan to help them in those areas as best as I can. We are a team working together and I am here to serve!
Education & Certification
Undergraduate Degree: Life University - Bachelor of Science, Biology, General
Graduate Degree: Life University - Masters, Chiropractic
Hobbies
When I am not serving with my hands, heart, and voice you can find me dancing the night away to some good salsa music with friends, singing with my church choir, or simply spending time with family!
Tutoring Subjects
6th Grade Science
Anatomy & Physiology
Elementary School Science