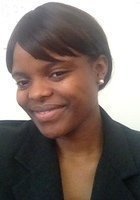 Ndeh
Certified Tutor
I am currently a Senior Chemistry major student at Howard University. I transferred from Prince George's Community college where I majored in General Education. While at school, I enrolled into the AVID tutoring program, STEM collegian and SIR student programs. Through these platforms, I was exposed to many activities of leadership and community service. The AVID tutoring program was most significant because, I was able to reach out to middle and high school students who needed help in math.

My effectiveness as a tutor comes from my ability to communicate and listen attentively to each individual's needs. Given the fact that everyone has different levels of comprehension, I aim at understanding the specific area of weakness and strength for each individual. I then start from what you know and understand easily to what seems to be confusing or difficult to understand. I also make sure that as soon as a concept becomes clear, we move on to solve as many problems as possible relating to that concept for more understanding.

I acquired most tutoring skills at PGCC and HU math labs (the schools I attended). The math labs were used primarily for helping students finish-up assignments on time, improve grades in math courses, prepare for math placement exams and get an overall understanding of any subject matter relating to math. At these labs, I did a work-study program and served as a volunteer for 20 hours every week. I helped college students get better grades, get a better understanding of the subject matter and complete their homework in a timely manner. My joy and satisfaction came from the feedback I got from students who would say "you helped me get an A on my exam" , "you helped me pass this class" and many students said "math isn't that hard." I specialize in tutoring the basic concepts/courses in math which I believe is the basis for getting a good grasp of the subject matter. I grew up loving math because I spend hours in my early years in school trying to understand the basic concepts and once I got a hold of certain concepts, it set a tone for higher level math and made it seem so easy. Easier than English. I love tutoring all Grade school courses in math and Pre/intermediate and college Algebra.
Education & Certification
Undergraduate Degree: Howard University - Bachelor of Science, Chemistry
Hobbies
Cooking, singing, watching movies, reading christian books, hair braiding
Tutoring Subjects
10th Grade Math
11th Grade Math
12th Grade Math
1st Grade Math
2nd Grade Math
3rd Grade Math
4th Grade Math
5th Grade Math
6th Grade Math
7th Grade Math
8th Grade Math
9th Grade Math
ACCUPLACER Arithmetic
ACCUPLACER College-Level Math
ACCUPLACER Elementary Algebra
College Chemistry
College Math
Developmental Algebra
Elementary Algebra
Elementary School Math
High School Chemistry
Other
Summer