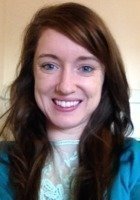 Amanda
Certified Tutor
I moved all the way from the western state of Wyoming to complete my college education and play soccer for Nyack College in Nyack, New York. Two thousand miles away from home, I have graduated with a 3.83 GPA, received a B.S. in Adolescent English Education, become NY State Certified in teaching ELA 7-12, and also have led my team on the field as a captain. My experience as a student-athlete all the way through high school and college has taught me qualities of leadership, teaching, and determination that have allowed me to make an impact as an educator today.
My passion in teaching is focused on everything literature and writing about literature. I have extensively studied a wide range of literature in college and am knowledgeable in British literature, American literature, Shakespeare, Milton, young adult novels, and a variety of world dramas. I have not only read expansively through genres, but also deeply, by knowing the craft of how to write about reading and writing well!
My passion for teaching reading and writing has led me to be a writing mentor for students at my college, work with AVID tutoring at a local middle school, and to also teach 8th grade reading to students in the Bronx this past year. Now, working for Varsity Tutors, I want to continue sharing and teaching my passion of reading and writing with students to help them be successful in all subjects in school and whatever their future may bring.
My style of teaching can be defined as that I am in fact, "...not a teacher, but an awakener", as said by Robert Frost. I believe in locating each student's personal strengths, learning style, and interests to help them see that they can be successful past our tutoring sessions. I hope to have the chance to help every student "awaken" their academic determination and strength to accomplish any goals they may have.
Education & Certification
Undergraduate Degree: Nyack College - Bachelor of Science, Adolescent Education English (7-12)
Test Scores
ACT Reading: 30
Hobbies
Art, literature, soccer, traveling, teaching.
Tutoring Subjects
10th Grade Reading
10th Grade Writing
11th Grade Reading
11th Grade Writing
12th Grade Reading
12th Grade Writing
7th Grade Reading
7th Grade Writing
8th Grade Reading
8th Grade Writing
9th Grade Reading
9th Grade Writing
Adult Literacy
American Literature
British Literature
CLEP Prep
CLEP English Literature
College English
College Level American Literature
Comparative Literature
COMPASS Reading
Expository Writing
High School English
High School Level American Literature
High School Writing
Introduction to Fiction
Introduction to Poetry
Middle School Reading
Middle School Writing
Other
Persuasive Writing
Shakespeare
Short Novel
Study Skills
Study Skills and Organization
Vocabulary
World Literature