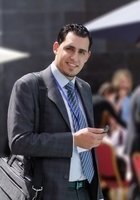 Feras
Certified Tutor
I did my undergrad of Philadelphia University. I've received my Bachelor of Science in Biotechnology and Genetic Engineering in 2009. Since graduation, my passion for what I do has never stopped, starting with the adventure of biological sciences and the challenge of stem cell research, and expanding my experience to the clinical world by helping people with devastating and untreatable diseases using stem cells. I've always been able to pass my passion for Science to many students through tutoring and training courses. I believe that with doing what I love; and loving what I do, I can inspire people around me, specially my students. In order to pursue my dream in becoming a better scientist, as well as a better teacher, I completed my Masters of Science in Biology from Bradley University in 2014, and I had the chance during that to participate in the first bioengineered trachea transplant using stem cells in the United States. Currently, I'm a Phd student at Rosalind Franklin University in the Neuroscience department.
In Science, I enjoy teaching Biology, Microbiology, Neuroscience, Immunology, Developmental Biology, physiology, and Molecular genetics. When I tutor, I try to create a friendly interactive learning environment with my students, and I love to discuss their opinions, answer their questions, and give them any advice they need to fulfill their dreams and approach their next step.
In my free time, I love to play musical instruments; actually, one of my hobbies is collecting musical instruments like guitar, violin, and piano; because music brings joy. I also like to play basketball, table tennis, video games (especially soccer), and spend time with my friends and family.
Education & Certification
Undergraduate Degree: Philadelphia University - Bachelor of Science, Biotechnology and Genetic Engineering
Graduate Degree: Bradley University - Master of Science, Biology, General
Hobbies
Play musical instruments, play basketball, and spend time with my friends and family
Tutoring Subjects
3rd Grade Science
4th Grade Science
5th Grade Science
6th Grade Science
7th Grade Science
8th Grade Science
Arabic
Biotechnology
Business
Cell Biology
College Biology
Data Analysis
Data Science
Developmental Biology
Ecology
Elementary School Science
Endocrinology
General Biology
Genetic Engineering
High School Biology
High School Chemistry
Immunology
Medicine
Middle School Science
Molecular Biology
Molecular Genetics
Neurobiology
Neuroscience
Technology and Coding
What is your teaching philosophy?
If you want to remember something forever, teach it! By teaching, I'm also learning!
What might you do in a typical first session with a student?
Get to know them better, and introduce myself. Ask them about their future goals in life, or current interests, to help them, by all means, to achieve them.
How can you help a student become an independent learner?
By using modern ways of teaching they actually would like! That would make them more interested in learning, and eventually allow them to study independently!
How would you help a student stay motivated?
By listening to their future goals, and then making a step-by-step plan to achieve it!
If a student has difficulty learning a skill or concept, what would you do?
Use a different method of teaching that the student might enjoy.
How do you help students who are struggling with reading comprehension?
By suggesting reading books that are easily digested, and then slowly progressing to higher levels books.
What strategies have you found to be most successful when you start to work with a student?
Engaging the student at all times through the session by asking questions, answering their questions, and giving some suggested question sets before the exams to practice.
How would you help a student get excited/engaged with a subject that they are struggling in?
By changing the way they are studying it, and presenting the material in a fun and interactive way.
What techniques would you use to be sure that a student understands the material?
Asking questions, and working with students to answer some practice questions to make sure we spot any weak areas in the material that the student needs to revisit and learn.
How do you build a student's confidence in a subject?
By showing them that they can answer most of the questions I provide for the material.
How do you evaluate a student's needs?
By asking them on a regular basis about their needs in any subject, and evaluate their performance in the class and their scores.
How do you adapt your tutoring to the student's needs?
By using different applications on my computer to change the way of teaching, and by using different sources.
What types of materials do you typically use during a tutoring session?
Online sources, books, and recent journal publications to provide current science.