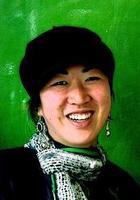 Christina
Certified Tutor
I hold a BA from UMass Amherst in Political Economy and MS from Brooklyn College in Mathematics Education, both summa cum laude. I am currently attending NYU Wagner, working on my Masters in Public Administration with a concentration in Education Policy.

I have been a NYC DOE math teacher for the past four years, three years as a 6th- 8th grade math teacher and my last year teaching Algebra, Geometry/Trig and Health. I have taught classes ranging from advance placement to remedial, including CCT and ESL. I absolutely believe that every student can succeed in math. My approach to teaching/tutoring is building confidence through math. Often times, I have students who say they "don't get it." However, I show them they may not get the whole picture yet, but they do have an understanding of some. And by showing them tangible steps they can use time and again, students see they can "get it". Those "ah-ha" moments are not only building blocks in their skills, but more importantly, reinforcing who they are and their abilities.

For my students who already have confidence in their math ability, it is about pushing them to the next level. Math is about problem solving, puzzles and thinking outside the box. By presenting problems within their skillset but slightly beyond their experience, it allows for the imaginary side of math to emerge while preparing them to approach a new problem with confidence.

As the Math Department Head of my school, I have an intricate understanding of math standards for 6th- 12th grade, as well as the new Common Core Standards being piloted through NYC this year. This knowledge paired with my classroom understanding has been key to not only preparing my students for their current grade but really hone in what knowledge they will really need for the next sequential math classes. Recognized as a DOE Honors Teacher, I have prepared students for various standardized test, Regents, AP and SATs with great results. Grading the DOE math exams for 3-8th grade, Algebra and Math A/B Regents has given me the knowledge as to what the state looks for as well.

Math has always been my favorite subject. It pains me when a student says they hate math because it usually means they encountered a past teacher who cared more about "the right answer" then the multiple approaches to understanding the answer.
Education & Certification
Undergraduate Degree: University of Massachusetts Amherst - Bachelor in Arts, Political Science/Economics
Graduate Degree: CUNY Brooklyn College - Master of Science, Mathematics Education
Graduate Degree: NYU Wagner - Master in Public Health Administration, Non-profit and Public Administration
State Certified Teacher
Test Scores
SAT Composite (1600 scale): 1420
SAT Math: 770
Hobbies
Soccer, Rock Climbing. Snowboarding, Backpacking