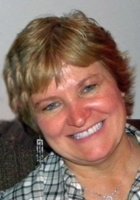 Belinda Colleen
Certified Tutor
I am a professional writer with over 20 years of experience. My teaching and tutoring experience spans over 15 years and includes learners of all ages. As a writer and reader of both fiction and nonfiction, I enjoy teaching reading comprehension, test-taking skills and literature. One of the techniques that has worked well for me is to find out as much as possible about a student so that I can customize my teaching techniques to correspond with their interests.

I have taught students in the "No Child Left Behind Program" in the subject areas of reading, grammar, writing, algebra and math. In the business world I have also taught business finance and real estate courses.

I believe that all children are capable of improving academically provided the instructor can find the best way to customize lesson plans to engage each student's natural interests and aptitudes.
Hobbies
writing, reading, scrabble, finance. economics, garage sales, poetry, philosophy, memoirs and biographies
Tutoring Subjects
College English
Comparative Literature
High School English