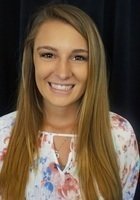 Chloe
Certified Tutor
Currently I attend the University of Akron majoring in middle level education. My strategy as a tutor is to guide students through the problems and provide explanations rather than giving the solutions and process immediately. I want my students to understand the process rather than just getting the right answer. My end goal is for you to understand the subject better and for you to leave our sessions feeling confident about the material and yourself!
Education & Certification
Undergraduate Degree: University of Akron - Current Undergrad, Middle Level Education
Test Scores
ACT Reading: 31
Hobbies
I enjoy trying new things. Hiking, biking, camping, really anything outdoors. I love the being out in nature. I like to read, paint, and hang out with my friends and family. I also have been playing recreation softball for four years.
Tutoring Subjects
Art
Elementary School
Elementary School English
Elementary School Math
Elementary School Reading
Elementary School Science
Enrichment
Handwriting
Other
Visual Arts
What types of materials do you typically use during a tutoring session?
I will bring my laptop, calculator, paper and writing utensils. If you have a textbook, please bring it!