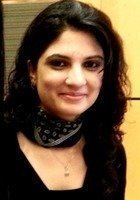 Hiba
Certified Tutor
I received my Bachelors in Science with focus on Finance and then went on to pursue CFA (Chartered Financial Analyst) certification. While in university I was the teaching assistant for my Finance professors and helped my fellow students understand concepts that were not clear. I have also helped my fellow CFA candidates with concepts and practice questions and have tutored O levels students with Math problems.

Since graduation I have been involved in the field of finance and investments and have helped my co-workers understand the concepts of portfolio management and other finance related topics.

I would love to pass on my knowledge to my students and help them excel academically .
Connect with a tutor like Hiba
Education & Certification
Undergraduate Degree: GUST - Bachelor of Science, Finance
Graduate Degree: Chartered Financial Analyst - Certificate, Finance
Hobbies
I like reading about the stock market, and I enjoy nature and shopping. :)
Tutoring Subjects
Business
CFA
CFA - Chartered Financial Analyst - Level 1
Elementary School Math
Personal Finance
Professional Certifications
Call us today to connect with a tutor like Hiba
(647) 952-2150