Work With The Perfect Tutor For You
Our interview process, stringent qualifications, and background screening ensure that only the best tutors in Tutoring NC, NC work with Varsity Tutors. To assure a successful experience, you're paired with one of these qualified tutors by an expert director – and we stand behind that match with our money-back guarantee.
You select the time and location, and expert tutors develop the strategies to help you meet and exceed your tutoring goals.
Session Summaries by Tutors
"The student was having trouble solving an equation for a variable, specifically how to get the variable by itself mathematically by moving the numbers over to the other side of the equation. He had a test with questions on it, so we went over all of his correct answers first to refresh his memory on how to solve, and then figured out what it was about the ones he got wrong that he did not understand. I included finding a common denominator and PEMDAS in my explanations."
"Today we practiced writing using the preterite tense. The student said that his teacher challenges students to write more detailed sentences so we talked about how he can answer one of the "who, what, where, when, why" questions within each sentence or add indirect object pronouns to say to whom or for whom the action is being done. We practiced this by describing some pictures I found online. He seems to have memorized the different conjugations of the preterite, including the irregularities- great job! I will suggest that he review the vocabulary and what the verbs mean so that he has those tools in his back pocket for the writing portion of his upcoming exam. At the end of the session, we briefly discussed demonstrative adjectives. He was able to clearly articulate the words and their usage; he only needed one reminder of how the masculine form changes from singular to plural. I feel confident that he will perform well on his exam. "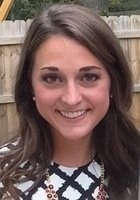 "Today, I provided more guided practice on mathematical proofs. This week, the student is continuing to work on triangle congruence and proofs, so we had a discussion on the information he should be memorizing, taking good notes, and having good communication with the teacher. "