Jessie
Certified Tutor
...working with a variety of ages and backgrounds. Assisting elementary students with homework at a multicultural center, tutoring peers in German and acting as a Teaching Assistant in a college World Civilization II course are a few ways I've helped others become successful academically. Some of my biggest learning experiences took place while studying in...
Education & Certification
Bachelor in Arts, History: emphasis in Secondary Education, Social Science Comprehensive; emphasis in History, German
Josh
Certified Tutor
...school gave me the opportunity to take a Physics course and that led me to a path in engineering. In 2008, I graduated from the University of Wisconsin - Platteville with dual degrees in Engineering Physics and Electrical Engineering. Since then, I have spent some time in the avionics industry, but now I am currently...
Education & Certification
Bachelors, Engineering Physics, Electrical Engineering
Jacob
Certified Tutor
...to make sure the tutee understands the material before we move on to more subject matter. I also believe in explaining "why." I believe the why can always be explained especially when complex concepts can be broken down to simpler more meaningful concepts. Lastly please share information on what type of learner you are, and...
Education & Certification
Bachelors, Biomedicine
Matthew
Certified Tutor
...excites. Math applies to everything and it's only stipulation is basic and irrefutable logic. Learning math occurs through a combination of instruction and participation. Instruction gives you direction and allows you to make the most out of your time spent studying, but ultimately it is participation in examples and critical thinking that will allow you...
Education & Certification
Bachelors, Mathematics
Josh
Certified Tutor
Hi! My name is Josh. Recently, I graduated from Washington University, but am originally from Wisconsin. I am very passionate about education and personal development. This is evident, by having successfully completed a Bachelor's in Engineering and a Master's in Finance. I look forward to working with you on math and science.
Education & Certification
Bachelor of Science, Engineering Physics
Master of Science, Finance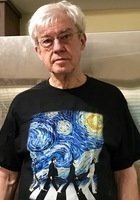 Charles
Certified Tutor
...ultimate tool, it's absolutely free and it's incredibly available. The skills it takes these days to write clearly and effectively are, with a little guidance, low-hanging fruit. I've always loved literature and writing about literature, so I can assist with those papers, but my true expertise is in writing as such, not writing in an...
Education & Certification
Bachelor in Arts, English
Master of Arts Teaching, English
Jordan
Certified Tutor
...certifications. I have a lot of experience with younger children, ESL students, and students with Autism and Developmental disabilities. I spent one year in South East Asia teaching high school students to read english. I work in developmental disabilities, and have extensive experience with students with learning disabilities. In my free time, I love hiking,...
Education & Certification
Bachelor of Science, Psychology
Master of Science, Applied Psychology
Education & Certification
Bachelor of Science, Electrical Engineering
Master of Science, Mechatronics, Robotics, and Automation Engineering
Rose
Certified Tutor
Greetings, I am Rose, and I have been a tutor for three years in several college-level classes. Currently, I am studying at UW-Platteville as early childhood and elementary education major. I am looking forward to working with you and help you succeed academically.
Education & Certification
Bachelor of Science, Elementary School Teaching
Education & Certification
Bachelor of Science, Electrical and Electronics Drafting
Master of Science, Engineering Science
100% Tutor Satisfaction Guarantee
At Varsity Tutors, we're committed to connecting you to top tutors capable of delivering an outstanding experience. That's why we provide a 100% tutor satisfaction guarantee.
If you are a University of Wisconsin-Platteville student who is looking for a little help preparing for exams, completing homework assignments, or just staying on top of classes, reach out to Varsity Tutors. We can connect you with excellent private tutoring that can work with you so that you can stay engaged with your classes. From history to sociology, college algebra to first year composition, there is a knowledgeable tutor out there with the skills to help you with your study needs. If you want to learn more about how private tutoring can help you keep up with your coursework, while developing study skills you can take with you into future classes, simply read on.
How can a college tutor near me at UW-Platteville help me study?
Many students learn the hard way that their college courses are more demanding than anything they encountered in high school. What's more, as you progress through your coursework, classes only get harder. One challenge students face in college is that it can be difficult to find the personalized attention they may have grown used to in high school. Class sizes, especially for many general education classes, can be huge. Your professors can't really get to know you when you are one of more than a hundred people in a lecture hall. You always have the option of visiting your professors during office hours, and that may prove helpful, but there is only so much that can be done in that short time. What's the solution?
Private tutoring can offer one way to get the personalized educational experience you may otherwise be lacking. Varsity Tutors can connect you with a UW-Platteville tutor who can work closely with you on whatever subject matter area you may need help with. You can have the opportunity to work one-on-one, on a regular basis, with someone who can take the time to understand your specific needs. Since you are the sole focus of your study sessions, you can get your questions addressed right away, and your tutor can take the time to be sure that you understand important concepts and have the information you need for your courses.
Can a University of Wisconsin-Platteville tutor help me prepare for tests?
When there is a test coming up, it can be the cause of a great deal of stress. Whether it's a high stakes exam, like a midterm or final, or something more routine, like a quiz or unit test, just knowing a test is coming can make a person anxious. Working with a college tutor at the University of Wisconsin-Platteville can help you to feel more prepared, and take away some of that stress when you sit for exams. Additionally, your tutor can take into consideration your learning preferences when planning for your study sessions. For example, if you are a visual learner studying for an anatomy class, your tutor can use visual aids like flashcards to help you memorize the names of bones in the skeleton. Or, if you are an auditory learner, your University of Wisconsin-Platteville tutoring sessions can take on a conversational feel as you review subjects like logic or metaphysics for your intro to philosophy class. When you study in a way that matches your learning preferences, you can get a stronger grasp on the material and recall it more readily when you need to.
While subject matter proficiency may be your primary goal when you work with a University of Wisconsin-Platteville tutor, what you take from your sessions can extend beyond just a single class. As you work to get a handle on the material, you can also begin picking up useful study strategies that may end up being particularly useful to you later on, as your classes become more challenging. From organizational tips, to time management strategies, to efficient note-taking techniques, there are any number of valuable academic habits you can learn from your private tutoring sessions.
How can I find a college tutor near me at UW-Platteville?
A college student's life can get busy pretty quickly. Classes and homework alone take up so much time, then there are the activities, and of course you need a social life. It can be difficult to find time to study. Varsity Tutors understands this, and that's why we make it as convenient as possible to find University of Wisconsin-Platteville tutoring can fit into your schedule. You can choose between in-person and online sessions, from varying times. Whichever option you choose, you get the same quality instruction. The online option does offer a little more in the way of convenience. There's no need to commute, you can log in from practically anywhere through our Live Learning Platform. The platform also features learning tools like a video chat function, virtual whiteboard, and document sharing. And, your sessions are recorded, so you can go back and watch anything you covered with your tutor again if you ever need to brush up on something quickly.
If you think you could benefit from the convenience and individualized instruction associated with private instruction, then reach out to Varsity Tutors. Our educational consultants are standing by, waiting to answer your questions, and can connect you with University of Wisconsin-Platteville tutoring in as little as 24 hours. Call today!
Your Personalized Tutoring Program and Instructor
Identify Needs
Our knowledgeable directors help you choose your tutor with your learning profile and personality in mind.
Customize Learning
Your tutor can customize your lessons and present concepts in engaging easy-to-understand-ways.
Increased Results
You can learn more efficiently and effectively because the teaching style is tailored to you.
Online Convenience
With the flexibility of online tutoring, your tutor can be arranged to meet at a time that suits you.
Recent Tutoring Session Reviews