Work With The Perfect Tutor For You
Our interview process, stringent qualifications, and background screening ensure that only the best tutors in Butner, NC work with Varsity Tutors. To assure a successful experience, you're paired with one of these qualified tutors by an expert director – and we stand behind that match with our money-back guarantee.
Exceptional tutors individualize all lessons to address students' specific academic needs. Tutors provide personalized, one-on-one tutoring in the comfort of your home, online, or wherever is convenient for you.
About Butner
Butner, North Carolina, is a small town located in Granville County, with a population of approximately 8,000. Butner is home to beautiful Lake Holt and the very popular Gazebo Park. Butner has almost 50 acres of land dedicated to parks and recreational use, with space for walking trails, fishing, and boating, to name a few.

Nearby, Granville Early College High School is within the Granville County School District and is nationally recognized. The high school is located less than ten miles from Butner, North Carolina. Private tutoring in Butner is available both online or in-home to help you with general course instruction or test prep. Professional in-person or online tutoring in Butner is a great way to work to improve in your class or test prep. A mere 20 miles away from Butner is Durham, North Carolina, home to the prestigious Duke University.
Private 1-on-1 Tutoring by top UNC/Duke Grads. 4.9/5.0 Satisfaction Rating* We serve the Triangle.
Session Summaries by Tutors
"The student and I had a productive session today. We didn't cover any new material, other than a quick review of the three binomial multiplication patterns and factoring, but spent the whole time doing practice problems. She did very well with the various types of problems. We also did some word problems, and I asked the student to convert the English into algebra then solve the algebra. She showed that she completely understood a word problem by explaining how she would go about solving the problem. Overall it was a great session."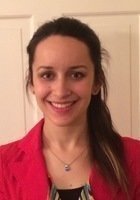 "The student and I went over homework today, specifically the equation of a circle and parabolic functions."
"We started with a worksheet that the student got, on solving basic algebraic equations. She got the general idea, but could definitely use a lot more practice. I didn't want to spend too much time on this, however, as her math test was moved to this Thursday. The test will cover rational/ irrational numbers, parts of an expression, and properties, so we spent some time reviewing all of these topics. She remembered rational/ irrational numbers from last week's session, so that was a quick review. Parts of an expression was also covered last week, but we watched a helpful video that broke it down for us as well. We probably had to spend the most time on real number properties. We went over each property, and then I had her do an exercise in identifying properties, given specific equations."