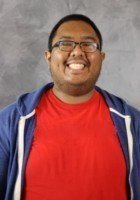 Patrick
Certified Tutor
I am passionate about helping students because I believe that it is incredibly important to learn how to take information from the classroom and apply it practically and critically to the world we all live in. By taking content learned in class and placing it in the context of real-life situations, all while collaboratively working with students, I believe students will not only be able to retain content better, but appreciate how such content informs the way we live, and how we can use that content to address and solve complex real-world issues.

I studied at Florida International University, receiving two Bachelors degrees in Psychology and Religious Studies. I went on to receive a Masters of Science degree in Psychology, specializing in Mental Health Counseling. During and after my masters degree, I interned as a staff clinician, working to provide one-on-one mental health counseling services to children ages 6-18, as well as to college students attending FIU. After completing my internship, I made the decision to switch to pastoral counseling; Im currently in the process of completing a biblical counseling certificate, and currently serve as part of the pastoral care staff at my church. My experience working individually with students of various ages and helping them to understand complex concepts has honed many of the skills I take with me into tutoring. I currently tutor elementary, middle school, high school, and college students in various subjects, including reading in English, essay editing, psychology, religious studies, and geography.

Apart from my academic pursuits, I love playing the piano and guitar, and singing; I particularly enjoy soul, R&B, and indie rock music. I also enjoy playing video games and addictively watching various TV shows.
Hobbies
playing the piano and guitar; singing; playing video games
Tutoring Subjects
1st Grade Math
2nd Grade Math
3rd Grade Math
4th Grade Math
5th Grade Math
5th Grade Reading
6th Grade Math
Civics
College English
College Geography
Elementary School Math
Elementary School Reading
ERB CTP
High School English
High School Geography
Homeschool
Homework Support
Human Geography
Other
Social Sciences
Study Skills
Study Skills and Organization
Summer
Vocabulary
What is your teaching philosophy?
I believe that teaching should take place in a collaborative environment that fosters creativity and critical thinking. An effort should be made to help students understand content at their level and its connection to other skills they gain in class, other areas of knowledge, and its role in relation to real-life situations in their world.
What might you do in a typical first session with a student?
In a first session, I would take time to get to know the student and how they learn best, asking what has and hasn't helped them in the past. I would then discuss with the student what difficulties they have in the classroom and set goals and markers by which we can assess our progress over time.